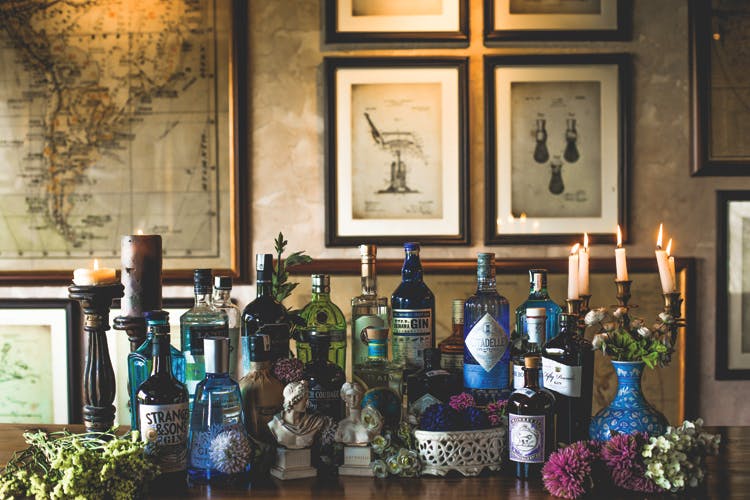 Sidecar Has An All-New Gin Menu This Summer & Here's Why You Cannot Miss It!
Shortcut
Your favourite artisanal cocktail bar in GK2 is here with a new Gin menu this season for all you juniper spirit loving people! The Delhi-based sister of Gurgaon's famous Cocktails & Dreams Speakeasy, the bartenders' bar, Sidecar, is ready to enchant us with an ode to our favourite spirit.
Gin-nie In A Glass
Apart from exquisite decor, old school vibe and warm ambiance, Sidecar is gearing up to offer something more exciting this season. If Gin is your poison, their new menu is something for you to taste, seek and explore. As part of this menu, they have launched a selection of 18 Gin Tonics, Daisies, Fizzes and Cobblers. This classy twist to mixology is sure to indulge you in a trip down a botanical wonderland!
We've heard that it's the largest gin menu in the city with more than 25 varieties of Gin. If you love geeking on the versatile spirit, this bar has got it all - from citrus-y flavours with gin in its most original form to something spicy with a twist. The Sidecar signature serves will be your favourite with the right mix of botanical herbs and flavour combinations, and popular Gin brands such as Monkey 47, Hendrick's, Fifty Pounds and Bathtub.
Being the Gin lover that you are, you are going to want to try everything! Immerse yourself in some amazing fizzes like Ananda, Sutra and Primitive Gin Fizz, mixed with some fresh basil sprigs, pecan bitters and date jaggery cordial or daisies like Bless you, Earthy & awe and Himalayan version! Sounds surreal, right?
So, We're Saying…
If you love Gin, Sidecar is the hottest place to be! It's elegant and quaint ambience is perfect for a fun night out with your pals or bae. Grab a spot by the bar and trust the bartender to make you that perfect drink!

More Information
Sidecar
Nearest Metro Station: Greater Kailash
Comments