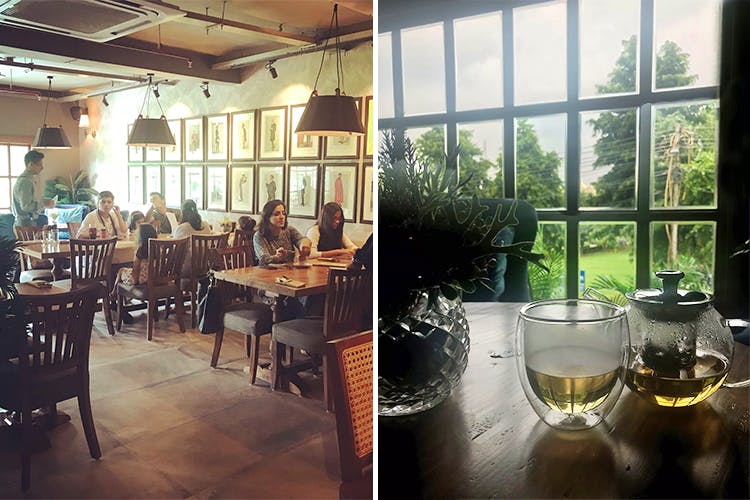 Hop On Over To Sidecar In GK2 For Their Mini Library & Meals-In-A-Bowl
Shortcut
Sidecar in GK2 M Block Market (started by the same folk that gave us Speakeasy, Gurgaon) is both an all-day dining space on one level, and an extremely unique, old-school bar on the top level.
What Makes It Awesome
That it has a lovely, rustic vibe and a crisp, five-page menu full of some really good food. We're going to stick to talking about the all-day dining floor, and not the bar, because they haven't got their liquor license yet. To be fair, they're just over a week old, so it's only a matter of time now.
We tried two small plates, the Pork Belly (which was easily some of the best we've ever tried), and these deep-fried squares of corn curd (Fried Panko Corn Curd), which were quite interesting, and will be a dream for anyone that enjoys coconut milk like we do.
For dinner, we had their meals-in-a-bowl (they're big on them because it's the perfect carbo-load for a big drinking night—their main goal is be a legendary bar, so this ties in with the long-term). While the Chilli Miso Prawn & Snow Peas bowl was quite flavourful (albeit a touch spicy), the Lamb Rendang bowl was the true winner of the meal-in-a-bowl game. One of the nicest, big Indonesian bowls of chow you can imagine, it's full of subtle, mild spices and tender lamb. Definitely ordering that again.
We only had enough dessert stomach to share one thing on the menu, and we went with the Doughnut Toast. It had the decadence of a rich dessert mixed with easy, fun vibe of a doughnut. The big scoop of chocolate ganache and coffee ice-cream—which taste so homey and familiar that you'll end up asking the staff where it's from—didn't hurt either.
What Could Be Better
Only that their bar could've been up and running already! But if you're down for a sober evening, this place is fabulous.
Pro-Tip
Stay tuned to this spot. Their bar, when it opens, promises to be extraordinary.
More Information
Sidecar
Nearest Metro Station: KAILASH COLONY
Comments