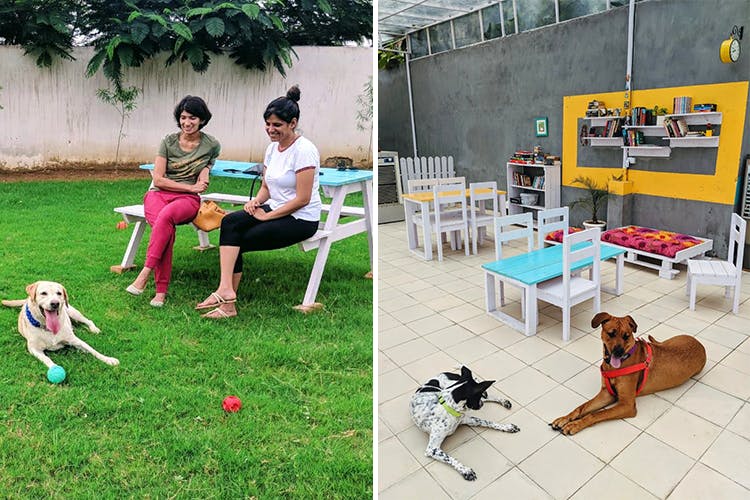 Take Your Furry Friend To These 6 Pet-Friendly Cafés In Gurgaon
Gurgaon folks, here is your blueprint for some one-on-one quality time with your pet! Hit up these five pet-friendly cafés and play areas for some pure pet lovin'.
Café Soul Garden
Café Soul Garden is best defined by two words: snug city. The place is a super chill with movie nights, indoor and outdoor seating and all-day breakfast. Let doggo run free in this pretty, sunshine-y, happy place but make sure you take their lunch along.They've even got a resident dog, Daaku!
Throttle Shrottle
Throttle Shrottle is the perfect pit-stop for you and your furry friend. Hop off your bike and head to this biker's café for some comfort food. The best part? They have an in-house chef who is trained to cook for dogs with an option for vegetarian or non-vegetarian meals.
Off The Leash
With a lots of greenery, this place is essentially a wonderland with activities, a small pool, and plenty of food. Don't worry, you'll be taken care of as well. We can safely say this is the perfect place for you to let your pet, you know, off the leash.
Roots - Cafe In The Park
An amazing outdoor seating area gives, Roots proper bragging rights as a chill bonding spot for you and your canine comrade. They also offer boiled eggs and omelettes for your dog upon request.
Café Red Garden Kitchen
Hamoni Golf Course's Café Red is great for a lunch date with your pet. They have a delectable selection of wood-fired oven pizzas and refreshing mocktails for humans and the food menu keeps changing every six months to keep the menu fresh. They do not provide any food for dogs but you're welcome to bring your own!
Tail Club
A one acre farm run by a pet parent himself, this doggy-first place has a pool, a huge area for them to run around, grooming services and even pet boarding services. They offer meal bowl for the doggos and you can sit back and relax with a cup of tea which would cost you only about INR 50.
Comments