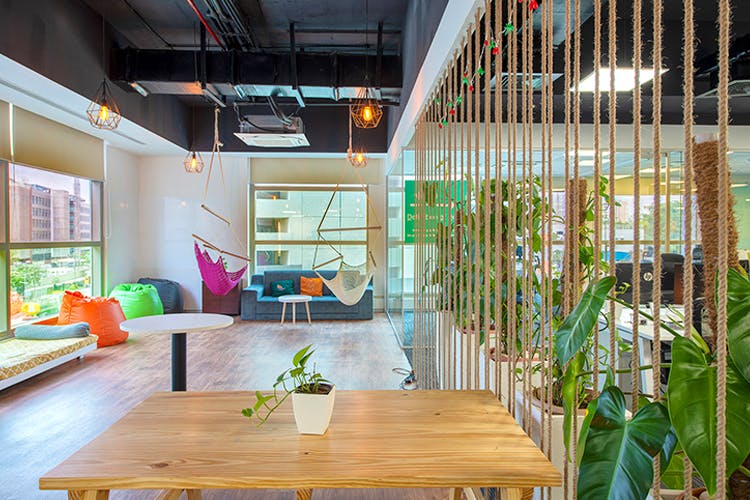 Nearest Metro Station:

NEHRU PLACE
Smartworks is the Workspace for the Future!
Are you an enterprise or SME looking for an office space that offers inspiration in every corner and an atmosphere that just motivates you to hustle? Yes? Smartworks is one such co-working space that offers a holistic and hassle-free experience to its members in the ever-changing business dynamics. With a presence in 9 key cities, Smartworks is the workspace for the future!
What Makes It Awesome?
With their Motto of 'Workspaces that work for you', Smartworks understands the key to productivity and requirements of an organization. Established in 2016, the company has its footprints in Delhi/NCR, Chennai, Kolkata, Bengaluru, Hyderabad, Pune, Mumbai with robust expansion plans in the future. Combining top-notch real estate design, technology with unmatchable hospitality, Smartworks is leading the member experience.
Design:
The spaces are contemporary, stylish, and agile. Your workspaces are configured according to your aesthetics to ensure they reflect your brand ethos.
Technology:
The Smartworks app provides networking opportunities and real-time tech support for a seamless and stress-free office experience.
Hospitality:
The hospitality is completely on point with an energizing and diverse line- up of community activities every week, from wine tasting sessions to yoga sessions.
So, We Are Saying...
Watch your workspace expand multi-fold in terms of productivity, engagement, and innovation! Smartworks is more than just an office space providing new-age offices for the future, via its fantastic designs, technology & personalized value-added services! Staying true to their core values of Customer Obsession, Transparency, Accountability, among others, Smartworks is committed to providing you an office space where you would love to go, and just not because you have to go!
Comments
Nearest Metro Station:

NEHRU PLACE