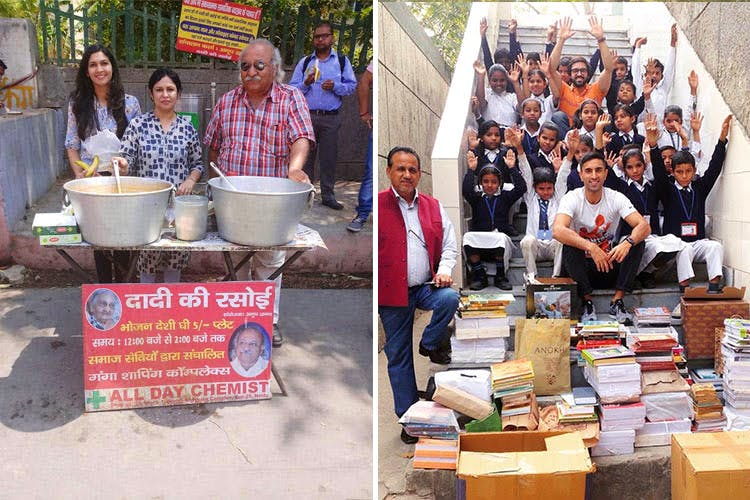 Meet 5 Delhi Folks Whose Initiatives Will Restore Your Faith In Humanity
While Delhi's notorious for a lot of things (including the excessive usage of BCs and MCs), there's plenty of good in the city too. In the last few months, we've come across many of these good Samaritans, including these six city folks who're making the world a better place to live in. Read on and smile a little.
These Initiatives By Delhi Folks Will Restore
Poonam Seth
A 50-something resident of Patel Nagar, Poonam Seth is leading a green revolution and giving Delhites a free green makeover. Why, you ask? Out of her love for plants. While you'll still have to pay for the plants you buy or get her to buy (which is only fair), Seth Aunty will design, procure supplies and set up your green space all for free!
Find more info here.

Anoop Khanna
Anoop Khanna runs the community kitchen called Dadi ki Rasoi. He offers INR 5 meals cooked in desi ghee because his mummy ji wished that good food should be shared with those in need (hence, the name). He sets up his stall in Ganesh Complex in Noida and the menu changes between paneer, lobhia and even khichdi on Sundays. There are desserts like watermelon and rasgulla too on some days.
Find more info here.

Sudha Singh
Sudha is the woman behind the Noida-based social enterprise — Wasteroots. This one-person enterprise lets Delhites exchange their old newspapers and notebooks for potted plants of the same value. The paper waste goes to a registered recycler and you come home with a new plant. What's not to love about this venture, really?
Find more info here.
Rakha Jain
Owner of Petcetra, a pet boutique in Lajpat, Rakha Jain offers coats for street dogs at discounted rates during winters. If you buy multiple coats, she also offers complimentary biscuits along with a discount. During the harsh winter months, coats for street dogs cost around INR 200 (post discount). So, think of Petcetra for to help a street dog get through ruff times.
Find more info here.
Jaivir Hans & Sahil Marwaha
The duo — Jaivir and Sahil started Do Nice Shit in 2016. It's a group that aims to change things for the better, one drive at a time. They often organise regular community-based drives like planting saplings around the city or carrying out donation drives to collect household supplies for people living in the slums. The best part is that you can also be a part of these drives. Follow their Facebook page for more updates.

Find more info here.
Comments