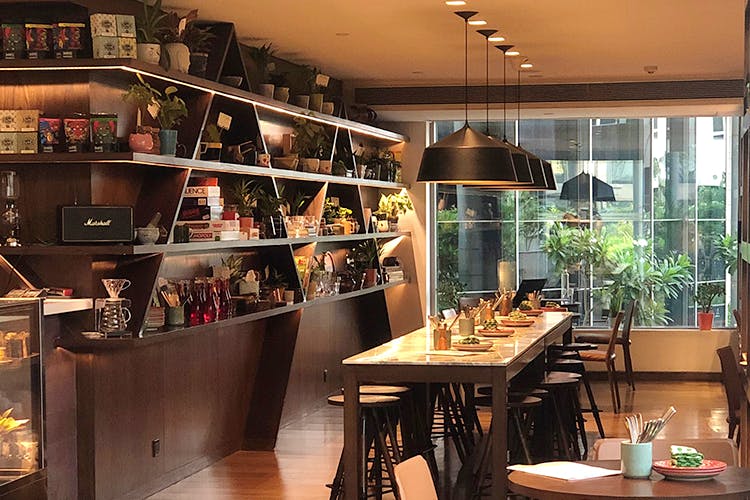 Soul Pantry : Healthy Has Never Looked And Tasted This Good!
Nestled in Andaz Hotel, a five star luxury lifestyle hotel in Delhi, Soul Pantry is one of the newly opened restaurants in Aerocity. It's already set to make a name in the healthy restaurants segment being one of the few healthy flatbreads restaurants. The interiors are understated and elegant (just like the interiors of Andaz, Delhi) however, this place also gives you a very cozy and chill vibe. It is an ideal place for meeting your friends on a healthy and holistic Sunday brunch or a place where you can go with your family to enjoy flatbreads, juices and some fun board games!
Wholesome Bowls and Nutritious Flatbreads!
Using organic and local ingredients and natively sourced grains, the wholesome nutritious flatbreads are high on the taste meter as well as the health meter. You can choose your own healthy dough made up from fiber rich local whole grains such as Barley, Buckwheat, Finger Millet, Amarnath etc and top it up with healthy fat and protein such as Avocados and Chickpeas!
A complete meal in a bowl, the wellness bowl's name is right on point because it's a delicious mix of all veggies, cheese and dressings!

Remarkable Coffee Program
You don't have to turn to your old brews to give you an energy hit anymore. Soul Pantry has a variety of beans that are gathered from farmers. So, what are you waiting for? Head to this restaurant at one of the 5 stars near the airport right before or after a long flight and grab a cuppa from their coffee program!

And Guess What?
Soul Pantry delivers in Aerocity and Vasant Kunj! So if you're looking for healthy and wholesome delivery and takeout restaurants or even if you're looking for pizza delivery in Aerocity and decide to eat healthy, you know this is the place to order from.
So what are you waiting for? Get your coffee and healthy fix in a jiffy from Soul Pantry. Find your love for nutrition and natively grown food in this bespoke restaurant at Andaz, Delhi!
More Information
Soul Pantry - Andaz
Nearest Metro Station: I.G.I. AIRPORT
Comments