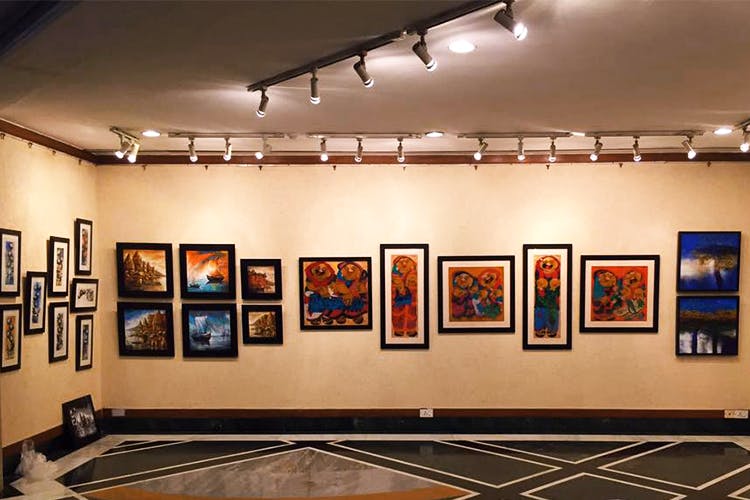 Nearest Metro Station:

SIKANDARPUR
Make A Splash With Breathtaking Art Pieces On Your Walls From This Gallery At Golf Course
Shortcut
An art gallery where you least expect it! Gallerie Splash is the newest addition to how Golf Course Road is shaping up. Now you can shop for both classic and contemporary pieces of art to liven up your home and office space with this new art space.
Chic Shopping
Clean white space with a sense of airiness and controlled light to appreciate the art on the walls for what it is, Gallerie Splash is unassuming to say the least but that is no reflection on the collections they host. With art segregated by price points and budgets, this is a great place to start a collection or even add to your existing one. They host collections of well-known artists, from Krishen Khanna, Ramesh Gorjala and Lalu Prasad Shaw as well as up and coming artists, whose works are likely to become collectibles in times to come.
Customised Shopping
Whether you want to shop by artist, budget, genre or even place, for instance, for your home or office, Gallerie Splash has it all sorted out, so that you find pieces that are perfect for you. The curators have over 14 years of experience in promoting and exhibiting modern masters and contemporary Indian fine art and are now committed to serving the growing community of Indian art collectors. They aim to propagate both contemporary as well as emerging artists and provide a platform for aspiring artists, by not just merely hosting exhibitions for them but by monitoring their growth and giving them a direction to take their works to the next level as well as advising art buyers on collectors on smart buys for their budgets. Today the gallery also hosts uniquely conceptualized shows highlighting diverse art forms like painting, sculpture as well as installation arts along with works of Contemporary masters as well as emerging and mid-career artists.
So, We're Saying...
If you are a collector or have always aspired to be one, a trip to Gallerie Splash could just be the ideal place to start
Comments
Nearest Metro Station:

SIKANDARPUR