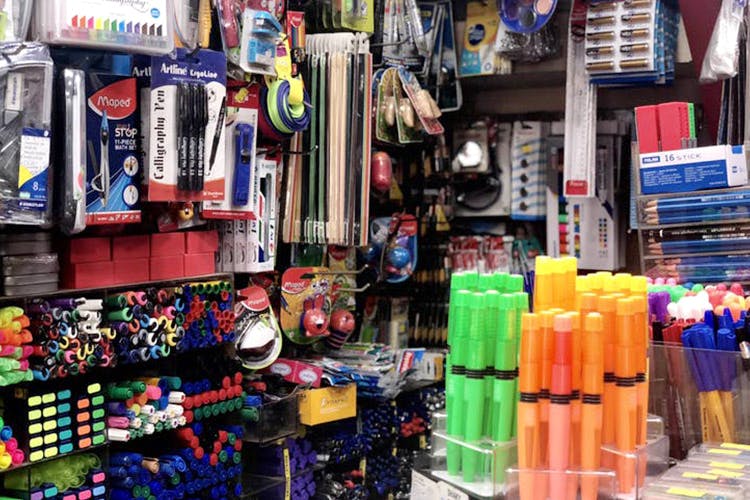 DIY Junkies, Score Craft Supplies From These 10 Stationery Stores
Most stationery stores house all of our basic needs, but what about when you need a specific-textured paper for that jazzy invite? Or, to fuel a DIY project like making a lamp, or perhaps an article of clothing? Here's a set of stores from which you can buy all your art and craft supplies.
Sitaram Stationers
If you're an art student, or simply harbour a love for pretty paper, Sitaram will feel like Disneyland to you. They have an entire basement filled to the brim with paper in different colours and textures. There's clay for pottery enthusiasts as well as a section dedicated to quirky knick-knacks such as mini furniture, 3D models etc.
Craft Adda
Distress markers, patterned paper, origami paper, paints, stencils, inks, fabrics, easels– they have it all. In addition, they have a section dedicated to embellishment such as buttons and ribbons to add to your artsy endeavours.
For more details and to shop online, click here.
Itsy Bitsy
Itsy Bitsy's range of supplies can be inspiring even to the not-so-artistically inclined. They keep everything possible to facilitate scrapbooking, card-making and other such projects. Take your pick from an array of glitter glue, calligraphy tools and art supplies like paint palettes, spray-paints, markers etc.
You can shop online here or from their outlets (one is in Pitampura and another one is in Lajpat Nagar).
Elite Store Stationers
Elite caters to every single stationery need you may have. From plush leather notebooks to fancy pens to pottery tools—they store it all under one roof, saving you multiple trips.
K.R. Stationers
They have an entire section on the first floor just dedicated to paints. This just goes to illustrate the variety they carry. You can find a separate section for gifting items, and a section for paper of all kinds. If you're looking for something specific, they may even order it for you.
Follow them on Facebook, here
Yash Stationers
In a tiny corner of South Extension (behind Mehrasons Jewellers) lies a vast collection of stationery that you may not find in most regular stationery stores. We even found Japanese clay, textured papers, wooden croquis and more such offbeat products here.
Oxford Book & Stationers
Our graphic designer swears by this store in Sector 26, Gurgaon, which may seem small and unassuming, but has everything you could possibly need for your next DIY project.
Craft Gully
If you're into quilling, Découpage, scrapbooking,crochet, candle-making, jewellery-making or taking up DIY projects for fun, this online store should definitely be on your radar. Their variety is astounding, and we're sure you won't be able to stop swooning over it (We couldn't help ourselves either).

To shop, click here.
Crafters Corner
This shop in Najafgarh has an exhaustive variety. We hear that they have fabric flowers, glitters, quilling materials and even fake grass! You can read more about the store here.
Big Stationery Mart
If you didn't already know, Nai Sadak is a heaven for stationary hoarders, especially since everything is cheaper than other places. Here, we found this awesome store to stock up on our artsy stash. You can read all about their collection here.
Comments