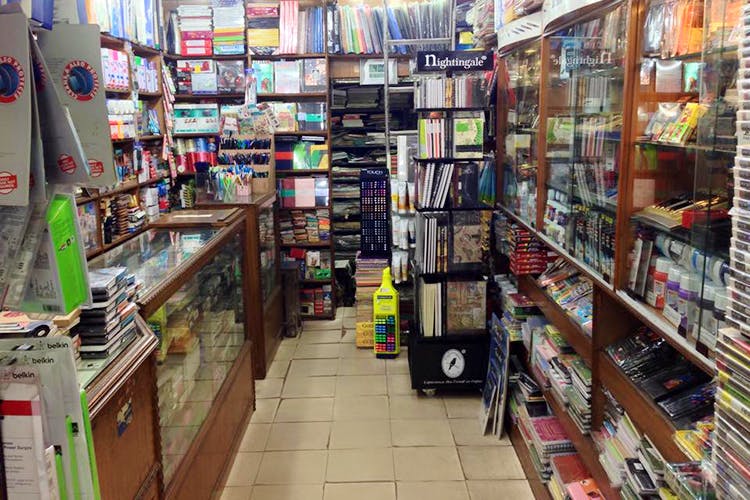 Stationery Shopping? These 10 Stores In Gurgaon Will Have Everything
There's nothing like acquiring a brand new leather-bound diary, or a set of beautiful pencils. Be it essentials for a DIY project or pens to doodle in your new diary with, we compiled a list of stationery stores in Gurgaon that will help you craft your next masterpiece.

Elite Stores Stationers
From handmade paper (which starts at INR 30) to leather notebooks, Elite is your one-stop-shop for all stationery requirements in Gurgaon. This Arjun Market stationery shop keeps office supplies, paints, whiteboards and canvases in various sizes. Every artist and stationery enthusiast should definitely visit this place, if they haven't already.
Don't hesitate to ask for discounts as they are more than willing to give them.
Timings: 11 am–8.30 pm
GalaxyBlu
If you ask me, GalaxyBlu is one of the best stationery stores in Gurgaon. They have an amazing range of stationery products, both local and international (like a Sharpie, Mod Podge, Koi paints and so much more). They don't restrict their store to just stationery, pens, and art and crafts, they have gizmos (say, headphones, earphones, cables and utility wires), toys, and gifts too. So you're likely to find a drilling machine, and other mechanical stuff here. They have a big section for party stuff (like balloons and super awesome colours) and utility products.
It's open all 7 days.
Paper Caper
Paper Caper keeps crafts and party supplies, in addition to stationery. Head here to get your hands on calligraphy pens, craft supplies, handmade paper diaries, papier mâché products. You can easily locate items that can inspire your next work of art, as the store is neatly arranged and organised into sections.
Timings: 11am–9pm
The Oxford
This stationery shop is an artist's delight. The Oxford is loaded with oil paints, acrylic paints, water paints and other supplies in shades that are not readily available can be found quite easily here. You will also find basic sports supplies and buy gifts for your loved ones while you stock up on stationery.
Timings: 9:30 pm–6:30pm
Stationery World
Though it doesn't look like much, this store will take care of all your pen and post-it needs. They have lamination and photocopy machines as well as binding services. If you're looking for items to organise your lives (and, honestly, who isn't?), Stationery World has your back. They even sell pen-sized flashlights and Swiss army knves to equip yourself for any situation life throws at you.
Timings: 11am–9:30pm
Quill & Canvas
This bookstore and art gallery keeps a small supply of unique mugs made by individual artists and Parker pens. They sell paint supplies, canvases, and paint brushes. One glance at the beautiful art and we're sure you'll find inspiration to create your next masterpiece.
Timings: 10:30am–9pm
Om Book Store
On your next trip to the mall, go pick up some stationery as well. Know that the Om Book Store at Ambience Mall has a bigger stationery section than the outlet at MG Road. They keep Parker, Sheaffer , Cross and Waterman pens. For the stationery brand-conscious, they stock Paper Clip and Rubberband products.
Timings: 10:30am–9:30pm
Anand Stationery Shop
If you're a pen collectors/enthusiast and have a thing for the classic and popular pen brands, we recommend you visit Anand Stationery Shop at Sector 14, Gurgaon. You can find really cool brands like Cross, Sheaffer, Lamy, Parker, Pierre Cardin and Montblanc here. Although they're popular for pens, they also keep art supplies and basic stationery supplies that you might need.

Timings: 9:30am–9:30pm
Stationery Mart
This Nirvana Courtyard store will take care of almost all of your stationery needs. Stationery Mart is loaded with different varieties of pens. So, you can choose from classic ball pens priced at INR 5 to a brand like Sheaffer. The store also has supplies that children might need for school projects (expect cute little decorations, sequins, ribbons and tapes with cute designs and glittery stuff). You can also choose from a range of colouring books and art supplies here.
Penz Solutions
The Penz Solutions store is an abode of luxury premium pens. Although the store doesn't look too fancy, it stocks some pretty nice pens. They have multi-function pens, fountain pens, exclusive pens and even some limited editions. If you're a pen fanatic (or a penatic?!) then you should definitely drop by this store.
Comments