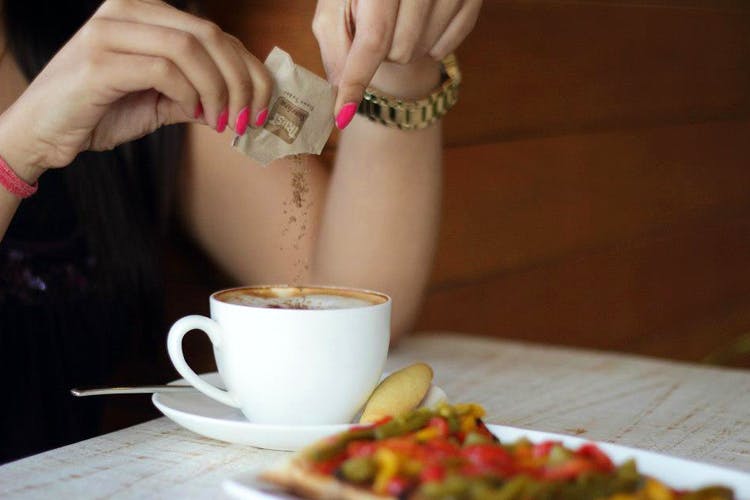 Stop the Presses And Soak Up Gurgaon's Coffee Culture
Ten-Second Takeaway
One of Gurgaon's many attractions includes its avid coffee culture, that goes way beyond a Pumpkin Spiced Latte at Starbucks. From the perfect French blend to a classy Italian roast, everything's available if you let us get you acquainted with Gurgaon's top coffee destinations.
Di Ghent
Di Ghent and it's classically European ambience have been a consistent LBB favourite, but we simply had to cycle it back for this list. Fresh beans sourced from Karnataka work their way through an Arabica Vending coffee machine to produce a European coffee experience fit for the Indian palate.
Since they're being so considerate, we'd recommend that you consider stopping over at the cosy Cross Point Mall outlet for their crema flaunting Doppio or a fiercely fragrant Cinnamon Cappucino.
Madison & Pyke
A classic Lavazza house blend using a Nettare Coffee machine has made this new kid on the block a Gurgaon favourite. Tucked into a cozy space at Nirvana Courtyard, South City 2, Madison & Pyke has been lauded for its delectable confectionery as well as it's homely ambience.
However, if you're jonesing for some serious java, drop in and pick up a piping hot Americano to liven up your day.
Beanstalk At The Galaxy Hotel
Known mainly for confectionery and let's not kid ourselves – their post 11pm discount rates – Beanstalk at The Galaxy Hotel is another spot that makes magic with a Lavazza roast and a Stylema espresso machine.
Their small seating area in the lobby makes for a comfortable, but classy Doppio destination that gives you the uncontrollable itch to stick your nose in the air and ask someone to 'pass the biscotti.' No judgement here, we've all done it.
Bizibean
For the uninitiated, Bizibean at South Point Mall screams 'All things coffee!' Both locally sourced and international blends thrive at this café, where your coffee is uniquely styled with a French Press, an Aeropress or a simple pour over, according to your preference.
Bizibean's set-up certainly ensures a consuming introduction to the world of coffee at extremely reasonable prices and caters just as well to keen coffee enthusiasts.
#LBBTip
Coffee is the ultimate social lubricant and we owe you a couple of honourable mentions just to keep your social life afloat. Check out Café Santé and Sakley's – The Mountain Café for more hidden gem coffee experiences.
Comments