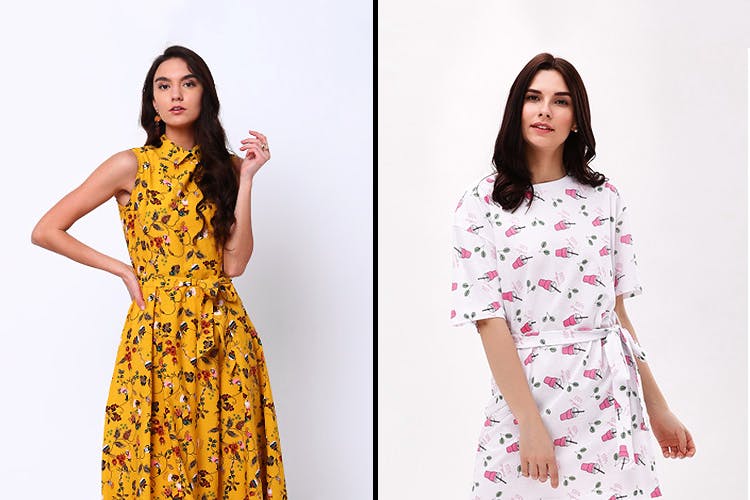 Stay Cool: Here Are 10 Fun, Summer Dresses You Can Shop Online
Summer always edges winter out faster than you can say 'frostbite' in this city, and there's no reason to fight the season if you can swan around in a fabulous sundress. We curated 10 pretty, super-summery dresses that are all available online (so there's no need to store-hop, or even leave your bed). Also, none of 'em are so insanely expensive that you'll need to live on dry rice and water for weeks to afford one.
Polka Blue
There's a retro, picking-apples-in-the-field vibe to this dress that we love. Bonus: it's airy, made from a light fabric and pretty suitable for the workspace as well, if you pair it with a jacket (and don't work in a corporate-dresscode environment).
Pretty In Pink
If you're big on channelling the feminine vibe, this dress fits the bill. With a swaying skirt, a chalky-pink pastel hue and the terribly girlish neckline, it's the right kind of summer colour and cut for an evening soiree.
It Was All Yellow
This printed, collared dress seems almost the exact hue of summer itself. With an airy-breathable silhouette and a fun, cheery print, it has a picnic-perfect vibe about it that we love. The tie-up element to it also cinches the waist, giving you, in effect, a narrower silhouette.
Block That Colour
Colour-blocking is smart, simple and pretty much never ebbs away from the style spotlight. This basic number blends a classic blue and white in a shift silhouette – easy breezy summer squeezy!
Sodapop Summer
This dress is just straight-up cute. The T-shirt silhouette makes it extremely chill, and the fun, poppy sodapop print adds a fun-with-summer element to it that's unlike your run-of-the-mill flowy-maxi dress situation.
Flute Flair
Albeit a touch on the shorter side of the scale, the flute sleeves and straight 'n' narrow cut of this dress make it a smart summer selection. The cherry-red also adds a little extra kick of happy to an overall light, easy sort of dress; works great for a laid-back drinks plan.
Florals For Spring
This dress is the kind of delicate that's more feminine and less girlie than most floral numbers tend to be. The pretty, china-pattern vibe and soft, pastel hues create a fantastic summer symphony.
Earn Your Stripes
The dress mixes two trends that you don't normally see blend so seamlessly; stripes and ruffles. What's nice is that they channel two totally different vibes (ruffles-feminine, stripes-formal), but the two form a happy amalgam in this flouncy (but not OTT) dress.
A Touch Of Ikat
Ikat is a seasonal fave, because the married-to-cotton, easy vibe of the print goes so well with the general aesthetic of the summer dress. We love how the dark-rose-meets-white colour combination gives the dress a fresh (but not overly feminine) spin.
Check Yourself
Gingham is just one of those things that never goes out of style. This dress right here is a smart investment, because the relaxed silhouette, paired with all-over checks, is as casual as they come. Paired best with a cute pair of white sneakers.
Comments