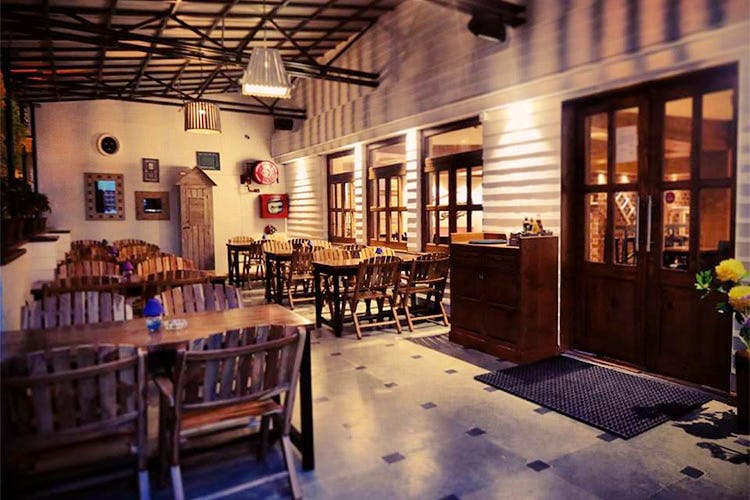 Summer House Cafe Has A Killer Rooftop, Great Drinks & Live Gigs Every Day
What Makes It Awesome
Proudly perched right at the edge of Aurobindo Market, by the main road, is Summer House Cafe. Head there for cocktails, live music and food. No longer do you have to head down the trafficky Hauz Khas Village road to find live music, strong cocktails and a rooftop to hang out at.
There was a time when we visited Aurobindo Market solely for Midlands Bookshop, Wimpy's and the toy store. That time was before Summer House Cafe. Started by the same owners of its fraternal twin Bandstand, and long before, Summer House can be credited with making Aurobindo cool again.
This is the perfect spot to come have a drink post work or chill midday on a weekend. It's got low, sofa-like seats, high wooden chairs, and wooden benches, surrounding the glowing Absolut bar (made out of the shell of a minibus). The first, and main, floor of Summer House has a slender outdoor balcony with a few tables. The interiors have a long bar, an assortment of seating and a stage set up for live music.
On a packed night, getting a drink from the bar can be tough so we tend to stick to beer, and doubles of our favourite alcohol. However, on a lighter day, when we have time to stop and smell the sangria, we order a few specific drinks.
Our regular picks from the drinks menu include items off the Signature Cocktail list. Choose a base drink (mojito, martini, margarita, etc) and a syrup flavour and you are good to go. Heads up, their LIITs are lethal.
We've regularly munched on the Southern Fried Chicken Strips, the Jalapeno Cheese Fingers and the nachos. Summer House Cafe really lends itself to bar snacks, drinks being the primary focus. As such we rarely get onto the other items on the menu.
What Could Be Better
It gets insanely crowded on the weekends here. Forget having a seat, it literally becomes hard to find space to stand properly.
Pro Tip
You're likely to find live gigs, events, talks and comedy shows taking place through the week. If you don't see an event on Facebook, call ahead and find out what's up. They also have a 1+1 deal on IMFL till 9pm everyday!

Also On Summer House Cafe
More Information
Summer House Cafe
Nearest Metro Station: HAUZ KHAS
Ask Aditya a question