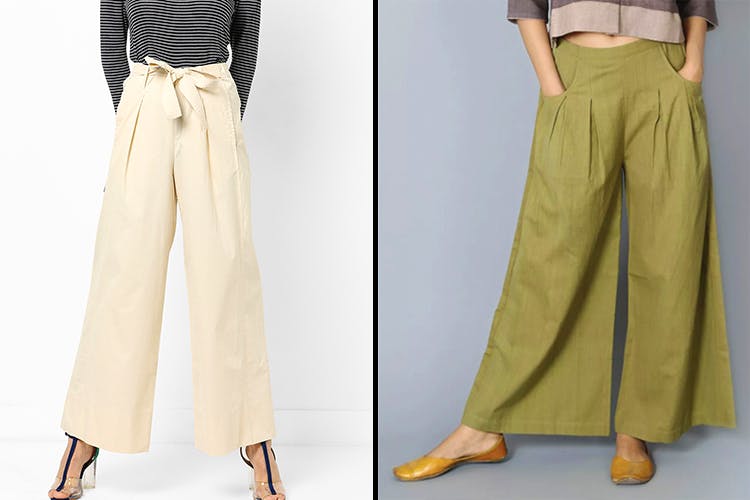 Bye-Bye Jeans: Get Summer-Friendly Pants From These 10 Places Instead
While we'd like nothing more than to prance around in our boxers all day during summer, there comes a time when pants become inevitable. And when they're comfy and breathable, we complain a lot less. There are plenty of both online and offline places that offer breathable linen and cotton pants. Here are the places that make it to our list.
Manan Design
Founded by Madhavi and Sharad Ganeriwalla, this 20-year-old brand is paradise for summer clothes. Their loose fits, whites, pastels and bright hues make for comfy, breathable attire. Next time you're near one of their stores, we suggest you take a peek; you might just find the perfect pair of linen pants.
Price: Starting at INR 1,600. Visit their website here and follow them on Facebook here.
Marks & Spencer
M&S is all about clean cuts and minimalism. Their collection comprises of linen, cotton and lyocell pants in both neutrals (black, white, tan and olive), as well as bright, summer-y colours like yellow, orange and teal blue. We usually stick to blacks and beiges at M&S that pretty much go with everything and are perfect for various occasions. It's expensive but so worth it.
Price: Starting at INR 1,913. Buy here.
The Loom
The Loom brings the best of handmade clothes from across the country to one place, all of which look stunning and are value for money. Apart from the regular linen and cottons, they'v got mul fabric pants too. For dailywear, check out these brown pants and these pleated khadi pants (it's got pockets too). These blue ijar pants and this mustard Mangalkari cotton palazzo (would look perfect with a white khadi kurta!) are some of our other favourites.
Price: Starting at INR 840. Buy here.
Zara
Catering to both men and women, Zara boasts of a trouser collection which comprises loose pants that you can wear all day (and all night). Roughing it out in these seems like a great option, especially when you can almost feel the breeze on your skin. The bold prints, fashion-forward silhouettes and funky textural elements will make sure your summer looks are on trend.
Price: Starting at INR 2,490. Buy here.
Mohan Singh Place
Mohan Singh Place is known for customised denim jeans, but they've got a variety of light fabrics like linen and cotton that would make for the best kind of summer pants. Why? Because you can get your pants customised exactly the way you want (extra pockets, zippers or embroidery, no questions asked) and the fit is impeccable. Linen pants here are your best option if you're looking for something budget.
Prices: Starting at INR 700 (depending on cost of fabric and making).
Jaypore
Ethnic or formal, printed or solid colours, slim-fit or flared, Jaypore's got a great variety of summer-friendly palazzos. We've been eyeing this pair of lovely lavender palazzos, these loosey-goosey denim pants and have already started saving up for these kantha-embroidered palazzos. While their variety of pants is limited, Jaypore makes up for it with its killer collection (& variety) in palazzos. They've even got a few cotton silks – perfect for those dressy summer functions.
Price: Starting at INR 900. Buy here.
SHEIN
Slowly but steadily, more and more Indian women have switched from the Amazons and Myntras of the world to Shein because of its variety of stunning women's clothes. While you won't really find pants and palazzos to go with your ethnic outfits, you'll find plenty of options for smart, formal and casual wear. Case(s) in point? These cotton-linen blend baby pink pants, these high-wasted pants and these casual flared pants.
Price: Starting at INR 1,000. Buy here.
AJIO
We've come to really love and rely on AJIO for budget-friendly, wardrobe quick-fixes that don't compromise on aesthetics. They have a large collection of palazzo pants in bright colours (team these up with white shirts or t-shirts) and those in basic colours too. They've got some prints in the mix as well, but weren't as impressed by them. We'd rely on these white pleated pants and these culottes to breeze through summer.
Price: Starting at INR 549. Buy here.
Comments