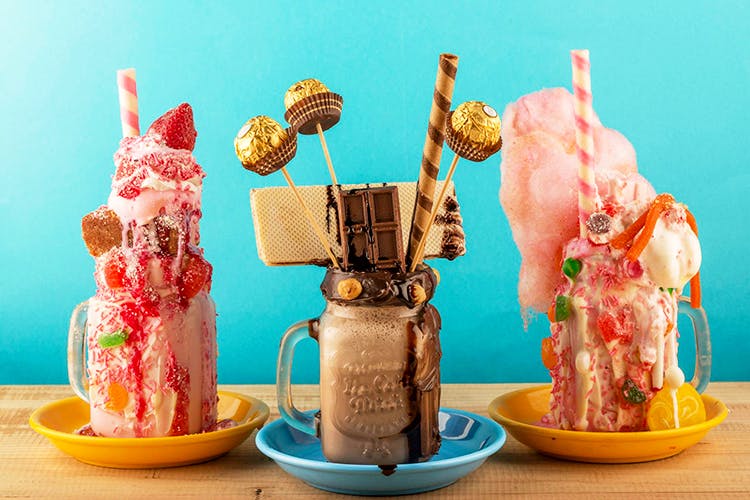 Take A Break From Counting Calories & Head To These 5 Restaurants For Epic Cheat Meals
We live in an age of clean eating and responsible snacking and our diet is now more guarded than the gates of Westeros.  However, there are those days when you want to break free, and stuff your face silly with all your favourite food and drink.
Here are our top picks for those cheat days when all you want to do is eat – no holds barred.
Bikanervala, Sector 29
Nothing says lip-smacking indulgence better than chaat, and Bikanervala has all your most cherished street food treats lined up for a total hog party. The Chole Bhature here has quite a fan following, and we are also very partial to their Raj Kachori, the king of them all, laden with all the crunchy, spicy good bits.
End your gluttony here with a thick lassi, or you could choose a couple of portions of the creamy Ras Malai. Do we hear collective sighs?
Cafe Delhi Heights
Gurgaon's closest match to Big Chill, CDH serves up super-sized continental fare, with lots of cheesy pastas, loaded nachos and chunky burgers. Their drinks are delicious, the bread baskets are a carb-lover's dream and their wedges are always perfectly crisp.
For gratification on a whole other level, pick the legendary Juicy Lucy that is smoky, messy to eat and stuffed with enough meat for it to really be a feast.
Binge
If sugar is your only real vice, then can a cheat day be complete without saccharine? Smooth creamy cakes, pies and chocolate brownies are what put the 'eat' in 'cheat', and Binge serves up your weakness in superb style. We specially love the Philadelphia Cheesecake, while the Concord Cake is our favourite celebration treat.
Indian Grill Room
A buffet is designed to be your partner-in-crime on a cheat day, and the one at IGR is bursting at the seams with smoky tikkas, melt-in-the- mouth kebabs and fragrant biryanis.
We love the Kasundi Grill Fish and the Mushroom Tikkas, followed by a buttery naan with Handi Meat. End on a sweet note with the oh-so- creamy Kulfi with Falooda.
Thai Pavillion - Vivanta By Taj
Get your sexy shirt on and spoil yourself in style at the city's best Thai fine dining restaurant. The steamed red snapper, the stir fried prawns in garlic and pepper, the crispy lamb with bell peppers, the morning glory in a yellow bean paste- you get the drift? Do get a portion of the excellent Thai curry and savour it with jasmine rice. End your wickedness with a hot Thai chocolate soufflé or a spiced Crème Brûlée. Divine!
#LBBTip
A visit to Morellos in Baani Square is a no-brainer, as far as cheat meals go. Super-sized, fully-loaded freakshakes with the same amount of calories as a complete meal – we absolutely loved the Snickers & Peanut Butter variant. Just make sure you run a little extra the next day!
Comments