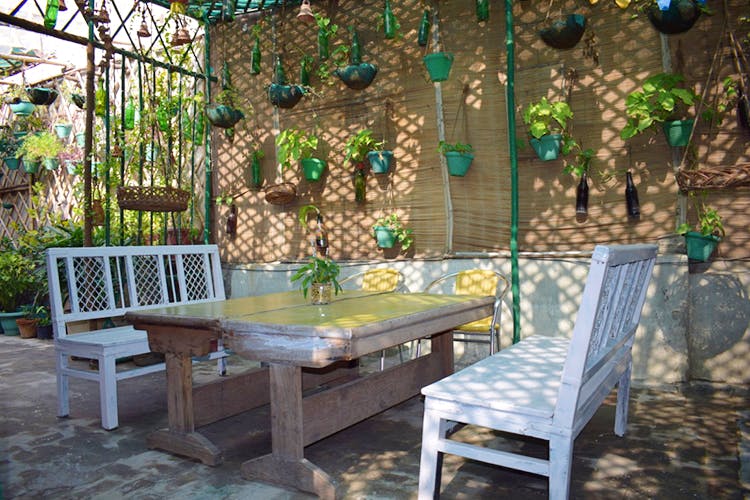 Garden Lovers, Seth Aunty Won't Charge To Create A Green Space For You!
Shortcut
They say, there are no free lunches. They obviously haven't met Poonam Seth yet. This 50-something eco warrior assists homes, cafes and offices in creating their own green patches. The cost you bear is for the plants you buy (or get her to buy) but she charges nothing to procure supplies, design and set up the entire space.
Aunty Knows Best
One of these green havens she created is bang in the middle of Patel Nagar and for the Outbound Konnections' office. The office space was an eyesore when her daughter, Komal, moved in and with Seth aunty's intervention and TLC, the nook was transformed from a concrete junkyard (and a glorified dump for restaurant rejects) to a green sanctuary. Many would even go as far as to call it West Delhi's well-kept secret. And, truth be told, we see great cafe potential in this place that's a lovely spot for place for both birds and nature-seeking humans.
When she madeover the above mentioned space, she threw in more than 500 plants including a mix of creepers, flowers, herbs (hey, basil) and more. Thanks to this uninhibited plant takeover, the temperature of the place is a few degrees lower than elsewhere.
The use of discarded beer and wine bottles (from the restaurant below) as wall planters, or the Buddhist prayer flags strung together and even the use of matka lamps, makes it clear that aunty might be 50-something but she understands young aesthetic pretty well. Oh, and she's so good with tech and prompt on Whatsapp as well.
There's A Green Future For Everyone
To give you a little background, Seth aunty currently runs an NGO, Raahat that's aimed at supporting the underprivileged children, the elderly and the less fortunate in general. Before she took on this role, she worked in the hospitality sector with ITDC for 16 long years. Through all this goodness, one thing remained constant: her love for nature and outdoor spaces. 
This probably explains why she wants to spend her retirement years bringing people close to nature through landscaping projects. She'll take up assignments across Delhi and NCR and do up your spot with the help of her trusted maali and helper with a gifted green thumb.
All this said, we're hoping this is going to be as economical a garden makeover gets.
So, We're Saying...
Want to chase butterflies in your own garden? Wish you could have your morning coffee in your sweet little balcony? Call Seth aunty's daughter, Komal, at 9899844000 to book an appointment.
Comments