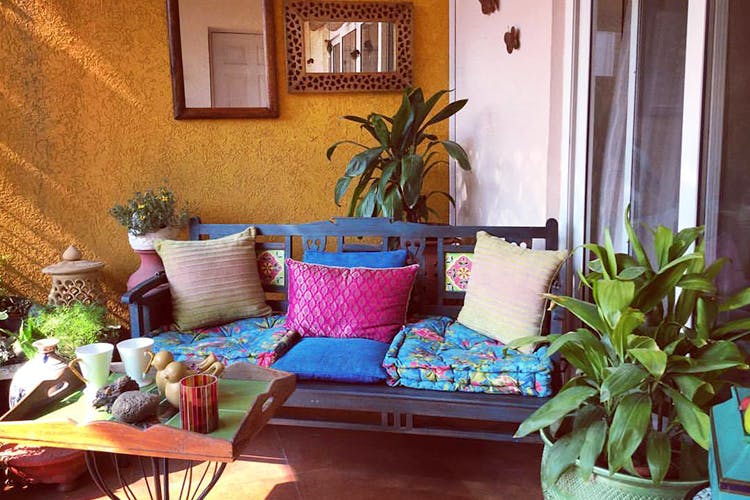 Change Is Good: Call These Sisters For The Loveliest Home Makeover
Shortcut
The Little Big Co. comprises a two-sister team that takes on Delhi and NCR based home-decor projects. This type of easy-going interior design assistance is perfect for people looking for advice and hand-holding as they go for rooms/small balcony refresh.
No, They Don't Have Big Teams
Our heart beats for people who quietly do what they do without making a noise around it. This is probably why we love Priyanka and her sister's approach to interior design. They've been around for the past few months but projects have come by only through word of mouth. Friends of friends see what an amazing job they've done sourcing sofa fabrics, or getting vintage furniture and quaint artifacts and want to know the creative brains behind it.
Once the clients call them with briefs, the decor junkies jump into action. They don't just study the house's spatial dynamics but also take keen notes on the homeowner's personality. What follows are serious market trips to Shankar Bazaaar, Amar Colony and co. to collect everything to put the look together. A nod of approval from the client and tadaa, they turn the space upside-down and make that sassy makeover finally happen.
No Loud, Blingy Stuff Either
If you browse through the company's design portfolio, you'll realise that everything they've taken on has been dolled up tastefully. Yes, there are a lot of bright rugs, wall art, floral cushions and more, but they make sure that everything they throw in isn't crying for attention. This cafe-like, casual feel of the spaces is what sets them apart and consequently, they've also found takers in people who'd rather go for warm rather than exhilarating.
Like what you see? Call Priyanka at +91 9810735538 or write to them at reachthelittlebigcompany@gmail.com.
Comments