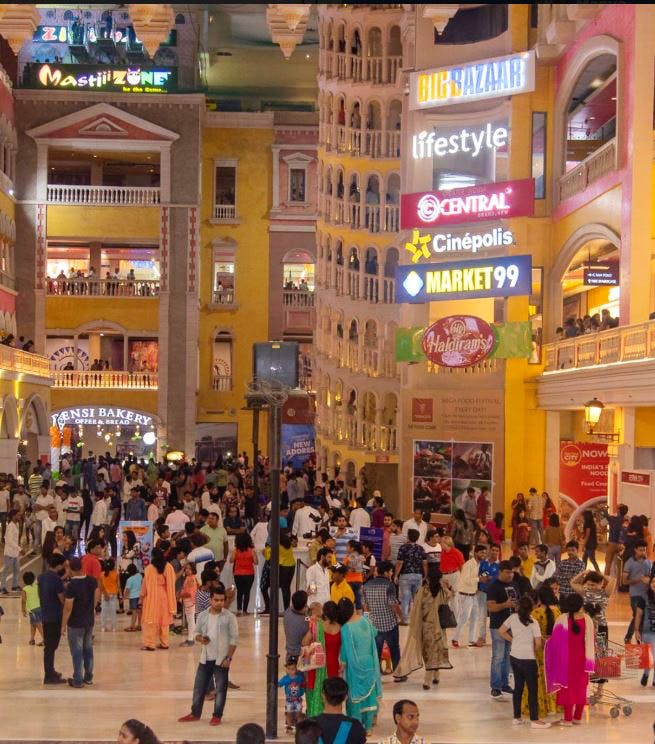 Gondola Rides & Vodka Pasta: 5 Cool Reasons Why You Need To Head To Greater Noida
Given the distance, a lot of us avoid going to Greater Noida, but there's some extremely cool stuff happening in that part of the town. If you're a true blue Delhiite who loves to explore the city, you've got to put these 5 places on your radar and plan a trip to Greater Noida just about now.
1. Zip Lining & More At The Grand Venice Mall
Once you are in Greater Noida, one of the best places to head to is The Grand Venice Mall. You could opt for a Gondola Ride (experience Venice in India), zipline, jump high at a trampoline park here, experience a horror story at The House of Dead, watch a 7D movie, and go skiing at Snow Mastiii.
With a number of things to experience at The Grand Venice Mall, we are sure that you won't be disappointed.
2. Pehelwaan Maalish At Jaypee Greens Golf & Spa Resort
Jaypee Greens Golf and Spa Resort is the perfect Sunday spot for those who want to unwind. A spa session taking care of all six senses through their well-known Pehlwan Malish Massage and Traditional Moroccan Hammam is all that you need to forget your worries. Their menu offers exciting cleansing and hydrotherapy options that we believe will make the trip worth your while.
3. A Date Away From The City Chaos At The Circle
Give us an aesthetically done up outdoor space, and you'll have our hearts forever. It's just a good ol' family farmhouse turned into a student-friendly cafe. They have put out a bunch of no-fuss lawn chairs and bare, covered huts where guests can eat, chill or play the guitar for hours at length. The seating is spread out, and there's ample breathing space. There's also a special table literally under a tree with hanging ball lights that will be the perfect spot to pop the question when you're broke (but also madly in love).
4. Grab A Beer Cocktail At Belgian Beer Café
Belgian Beer Café has strictly been modelled along the lines of a rural Belgian beer bar. On a White Cloud is essentially a beer mojito (made from Hoegaarden); we loved it for its lightness and tang. If you like your brews bitter, the Grand Place (Leffe + orange peels + tequila) is your drink. Although a tad too sweet for our taste, the Sweet Clementine would make for a good drink for those who love their sugar.
5. For Vodka Pasta & Thick Shake, Go To Creme Castle
Located in Ansal Plaza at The Mall Of Greater Noida, this beautiful little cafe has great decor and even better food. You just can't get enough of their pastas and Oreo Kitkat Shake. Creme Castle in Greater Noida has been getting a whole lot of love for their pastas (we spotted a vodka one on their menu) and thick shakes. So drop in one evening, maybe?
Comments