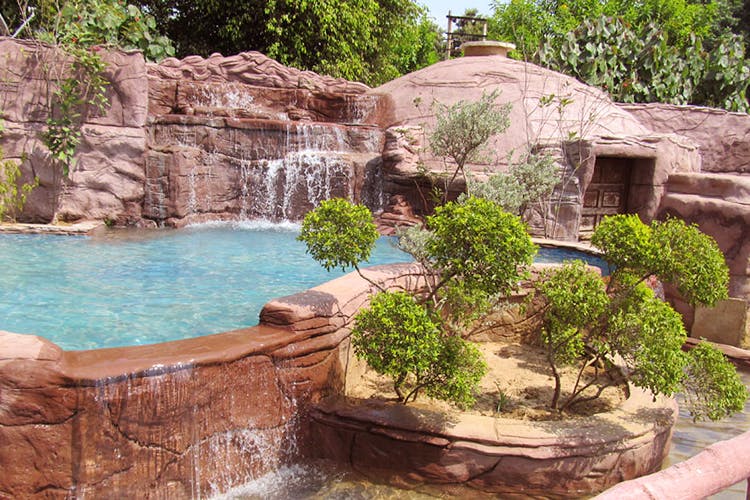 Heading To Damdama Lake? Here's What You Can Do While You're There
Gurgaon is far enough, Sohna Road is pushing it, but making the trek to Damdama Lake really needs a good reason. So we found some for you – drive down for a full day of adventure sports, boating or lots of down time.
Go Rock-Climbing
Perfect for beginners and more seasoned climbers who'd like to get real-life, outdoorsy climbing practice, the Damdama Lake rocks will get your adrenaline pumping. An adventure company called Bikat Adventures organises Sunday climbing sessions, including a workshop on mastering the right form and technique.
Don't forget to dress comfortably and maybe head to Sohna Road after (Vatika Business Park is full of dining options) for a heavy meal. You've earned it.
Make A Low-Commitment Camping Trip
Situated on the banks of Damdama lake, The Blue Camp is the perfect escape. They've got cosy camps, host overnight gigs, BBQs and you can get away from the city without driving too far. They also offer a host of adventure activities like rope climbing, monkey crawl and more.
Of Course There's Boating
But you'll have to take a chance on it; we tried reaching out to a bunch of travel companies and Damdama lake specialists, but were told that boating is more of an ongoing activity. Well, no surprises there.
So if you're tired of Old Fort, you could try your luck at Damdama; we're sure you won't be disappointed (if you've been, let us in on your experience in the comments).
Plan A Quick Getaway
The area around Damdama lake is populated with resorts, hotels and properties that are perfect for a one-night getaway when life becomes too much to handle. Botanix Nature Resort and Vira Eco Life are some great option and boasts of beautifully landscaped gardens, quaint cottages and a pool.
In addition, they're happy to plan as many activity-packed days as you'd like.
Comments