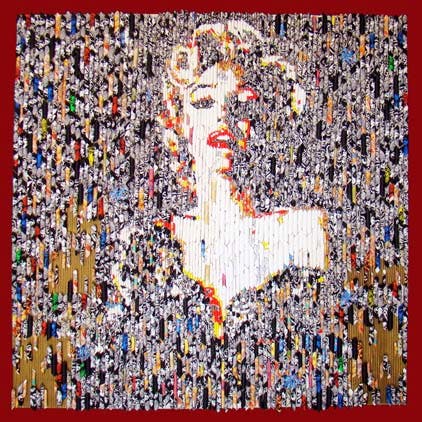 This Artist Uses Rolled Up Paper To Create Photorealistic Pop-Art Portraits Of Iconic Celebrities!
What Makes It Awesome
According to Vinita Dasgupta, the layers of life are metaphors for her art. She applies a laborious technique of cutting and rolling up paper and fabric in different sizes and then pasting them according to colour and shade to get the perfect outcome. Her storyteller series consists of portraits of iconic men and women such as Marilyn Monroe, Audrey Hepburn, Mother Teresa, Nelson Mandela, Waheeda Rahman and several others! Vinita's inspiration comes from local artists from the villages of Orissa who make their own materials and apply natural mediums to their canvases. Her artistic process begins with drawing an image on a board, then rolling and assembling paper of different sizes on to specific areas and subsequently painting over them. Interestingly, the black and white rolls each contain stories relating to Indian mythology, nature and animals - adding a touch of folk art to her pop creations.
Comments