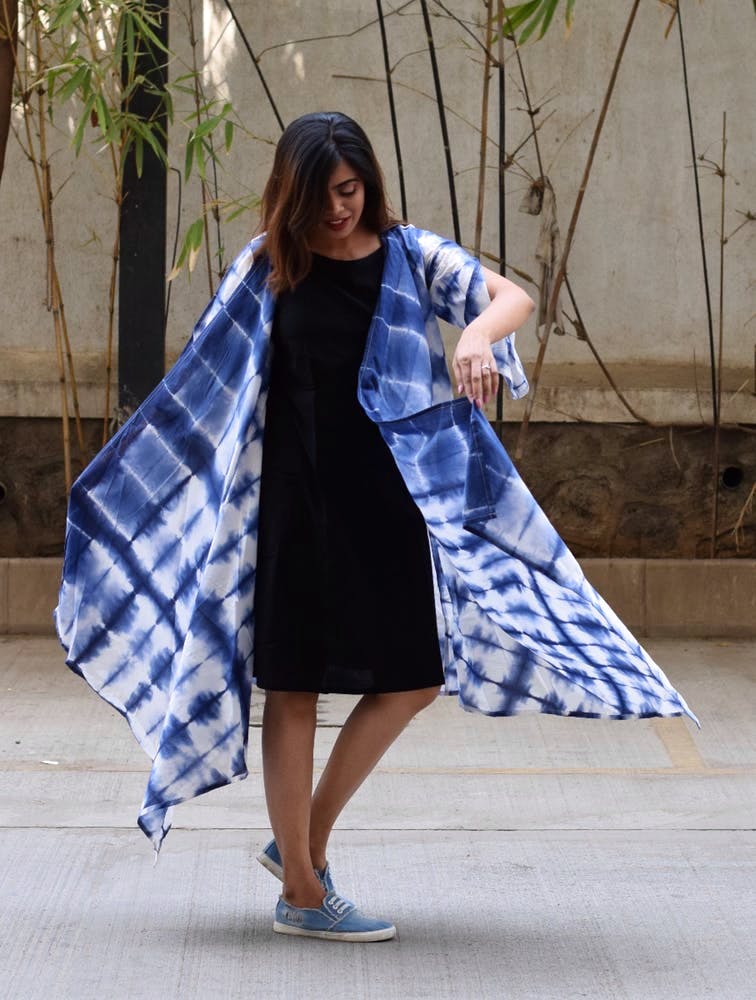 Tie-Dye Everything: 10 Styles You Need To Grab
Guys, pride month is almost over and if you still haven't painted your wardrobe, NOW's the time!
If you've been scrolling through the gram, you know that tie-dye is majorly on trend right now. From sneaky ways to wear to it office to the dreamiest vacay looks, here are 10 styles with pro-tips on how to pull them off.
Tie-Dye Spaghetti Dress
This one's begging you to be brought to a beach vacay. It's super breezy and we personally love the off-beat lime green and blue combo, and the straps come with really pretty mirror work. No beach vacay coming up? Wear it to brunch with the girls and make them green with envy!
Shibori Sleeveless Top
If you're new to the tie-dye trend, this chic sleeveless top is the perfect experiment - it's pocket friendly, has a subtle colour combo, AND is made with 100% cotton (making it super summer-friendly too.) You can wear it to lounge around at home AND to brunch with the girls. Pair it with high rise denims, a blazer or just leave it the way it is!
Shibori Tie-Dye Drawstring Backpack
If you'd rather just repaint your accessories than clothes - don't worry, we got you! Huedee's tie-dye bags are everything. Spacious, trendy and of course super colourful. Pair them with denim-on-denim looks, brunch outfits or smart casuals.
Long-Line Jacket
Ruisa's tie-dye range is selling out at lightning speed and we can totally see why. This long-line jacket steps up the most basic outfits - a little black dress, tank tops and shorts or basic white kurtas.
Pink Tie & Dye Maxi
This classy approach to the trend is basically a no-brainer. The pink & white combo looks super fresh and the silhouette is really flattering too. You can complete the look with trendy mules or even your go-to kohlapuris.
Tie-Dye Sliders
The tie-dye trend isn't restricted to game changing apparel, you guys. Pink Paisley's funky and cute footwear has our hearts! These slides recently dropped on LBB and are giving Adidas and Reebok a run for their run-off-the-mil slides. The colours instantly put me in a good mood, and the vegan leather sole keeps my eco-right heart happy. The material is super durable too, so worth every penny I spent!
Yellow Tie-Dye Straight Tunic
To ease in your Indie self into the trend, check out this happy-hued tunic. It's brighter than sunshine, and is currently 56% OFF on LBB. Get your hands on it asap!
Handcrafted Tie-Dye Dress
There's no better time than summer to sport a blue & white combo, and when it looks this breezy - who can keep their hands off? Do your bit for the environment and get this handcrafted flared dress. Promise you, the fit's flattering as ever and the colours really pops.
Bandhani Print Long Line Jacket
I'm hooked to the Bandhani print on this longline jacket! Step up an all white outfit, a little black dress or even basic formals with this happy-hued layer. The leafy green and blue combo is so fresh, the mandarin collar qualifies as whatever you want it to and in a viscose rayon material? I'm hitting add to cart right about now.
Blue Tie & Dye Pocket T-Shirt
Feeling isolated men? Don't worry, we're known to end with a bang and this blue tie-dye t-shirt shows how. The stripes are super on-trend, the contrast pocket looks dope and when on 60% OFF? It's a great way to inaugurate that paycheck (not).
Ask Divita a question