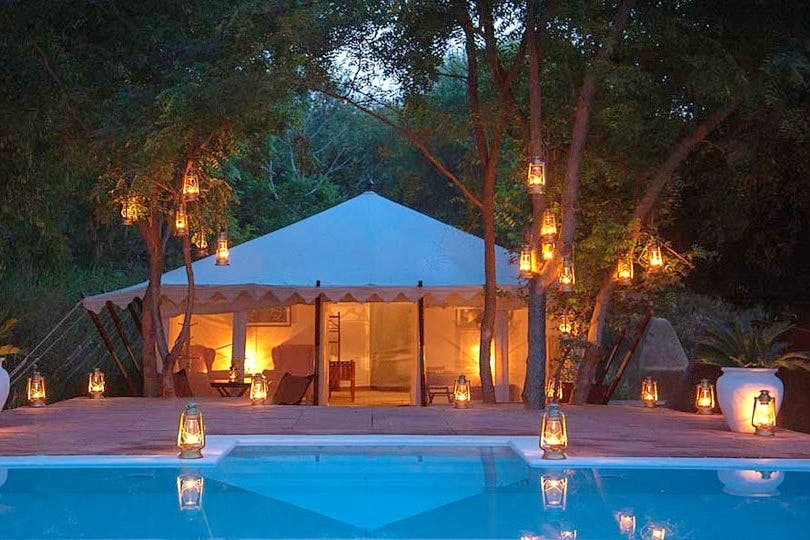 Tiger Safari, Spa-Time & Handicraft Shopping At Sher Bagh, Rajasthan
It's ideally for someone who loves nature and fauna, but honestly I've seen every sort of traveller here. The adventurous ones sign up for the safari and the lazy ones are usually found at the spa. To soak all the goodness in, I'd advise a minimum of three days at Sher Bagh.
So Many Cherries On The Cake
I've loved every bit of the experience here, including being in the middle of the jungle, away from the madding crowds, noise, mobile phones and city life in general. And then seeing a tiger in it's natural habitat…you just have to see it to believe it.
Pack Your Bags & Get There NOW
It's super convenient to get to Sher Bagh from Delhi via one of the two available trains. It's approximately five hours to Sawai Madhopur station, followed by a short 15-minute drive to the camp. P.S. You will be picked up in style!
#LBBTip
October to March is the best season, even though December and January tend to get quite cold. Pack as you would for any safari, and in case you forget anything, they have a terrific shop in the camp for last-minute supplies.
Do visit Dastkar, a collection of handicrafts, clothes and other knick-knacks made by local villagers; they are great value for money and perfect for gifting.
Comments