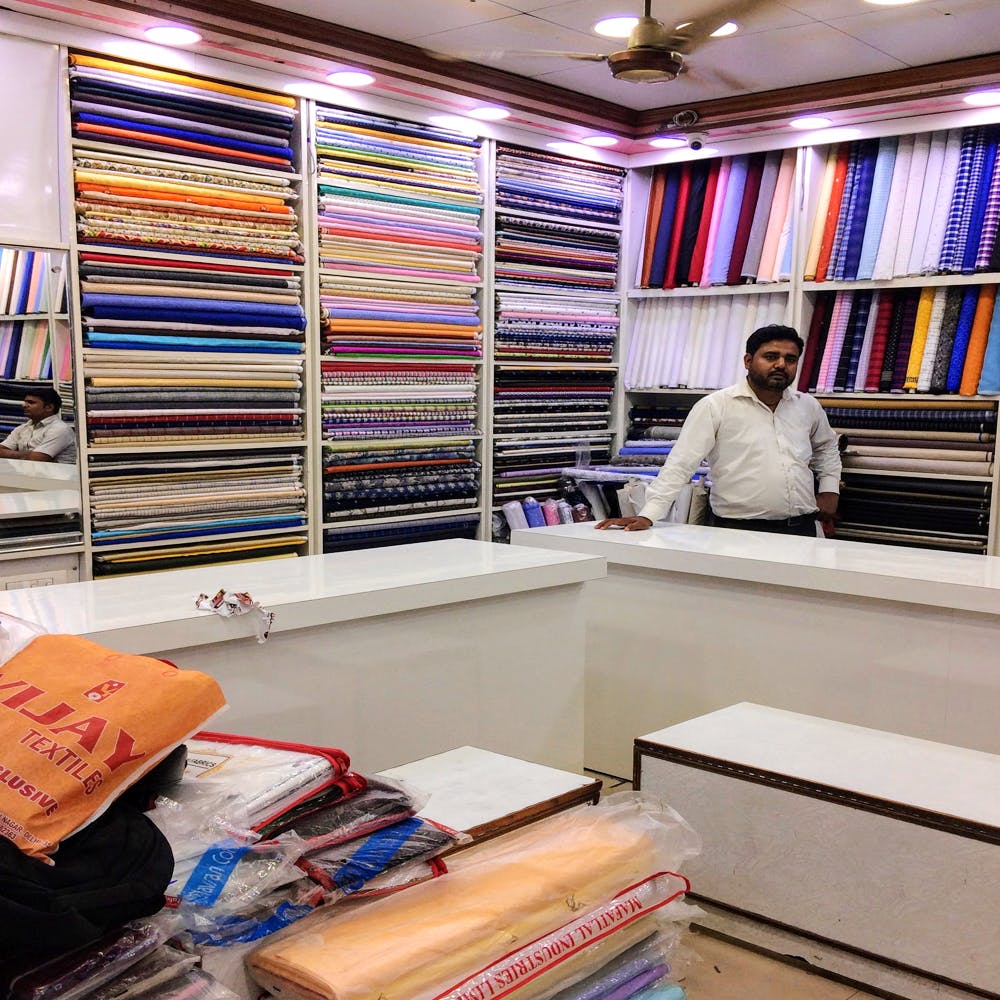 We Found So Many Cool Stores In Tota Ram Market!
The Tota Ram Market in Tri Nagar, is one of the oldest markets in Delhi. One of the shop keepers told me that this market has been standing in place since 1962. About 50 or so years ago, the entire area (in and around the market) was known as Jor Bagh, but is now simply known by the market's name.
You can find the most trending ethnic wear here. There are a couple of shops that have accessories, bags and western wear, but those are out numbered by the ethnic wear boutiques and shops. These shops are lined up along the Tota Ram Bazar Main Road and include some of the oldest family businesses in Delhi.
Here's a list of stores that you can expect to find affordable and stylish buys at. Knock yourself out and read through our list to shop for only the best apparel.
Devanya - The Designer Boutique
Devanya was the first boutique I walked into and was genuinely very happy to have discovered. Not only does the designer and owner or the store have her own collection of kurtas, she also curates and brings in several other pieces to sell. Mostly you can find cotton kurtas in button-down, shirt styles, wrap around styles and even basic silhouettes. Other than this, the store stocks some heavier ethnic gowns and suits but not as many basic ones that you can wear every day.
Devanya's products start from INR 499.
Bansal Boot House
Bansal Boot House has the largest variety of footwear in the entire market. It's a huge footwear and bags' showroom. They have a lot of men's shoes, mostly formal wear (anything from moccasins to oxfords). For women, Bansal Boot House has all kinds of flats, like slingbacks and bellies. Apart from this they've got open-toed, strappy and closed heels, as well.
We recommend you head here to shop for men's footwear and bags. They have a lot of sling bags with chain straps and bigger shoulder bags as well. Bansal Boot House's products start at INR 500.
Dimpy Collection
Dimpy Collection can be your go-to Kurta and palazzo place. It has basic kurtas, pleated metallic palazzos and more. Apart from this, you can also find ethnic dresses here.
Their clothes are priced at INR 600 and above.
Amrapali - Suits 'N' Fabrics
Amrapali Suits 'N' Fabrics is one of the oldest and first few shops in the entire market. They sell a ton of suits and fabrics as well. But we especially recommend going here for the fabric rather than the readymade suits.
Their fabrics are priced between INR 500- 4,500. Whereas the ready-made clothes are priced at INR 2,500 - 8,500.
Vijay Textiles
Vijay Textiles sells only fabrics for menswear. They have fabrics from brands like Raymond, Siyaram's, Grasim, J. Hampstead and Reid & Taylor. They have a conjoint section in their store which is basically a boutique where after your picking fabrics, you can get formal wear made.
Their fabrics start from INR 500 per meter and three piece suits are priced between INR 7,000 - 10, 000.
Jain Sons
Jain Sons is another men's wear boutique in the market. They have an endless range of fabrics stocked on both their floors, and have sample pieces for people to choose from and get stitched. We recommend going here to get nice printed waistcoats.
Their fabrics are priced at INR 500 and above.
City Suit & Sarees
City Suit & Saris is great if you're looking to shop for saris, suit sets, and lehengas. They've mainly got garments for special occasions. We recommend going here for the pretty kurta and garara sets that they sell.
Find garments here for INR 2,500 above.
Simran Accessories
Simran Accessories has everything from tops, bottom wear to earrings and full jewellery sets. What we most recommend going here for are their earrings (especially the tassel earrings), and hair barretts.
Simran Accessories sells their products for about INR 300 and above.
Amprapali - Garments
Amrapali Garments mostly has casual wear; both for men and women. You can find denims, casual t-shirts, dressy palazzo and top sets as well.
You can find all this for about INR 500 above.
Amprapali - Suits, Lehengas, Dresses
Suits, lehengas, and dresses, Amrapali has it all. I personally recommend going here for the lehengas (They have cool ones with jackets to go along as well!). Apart from the lehengas, you can go here for the ethnic gowns too.
Prices start at INR 1,500 above.
Comments