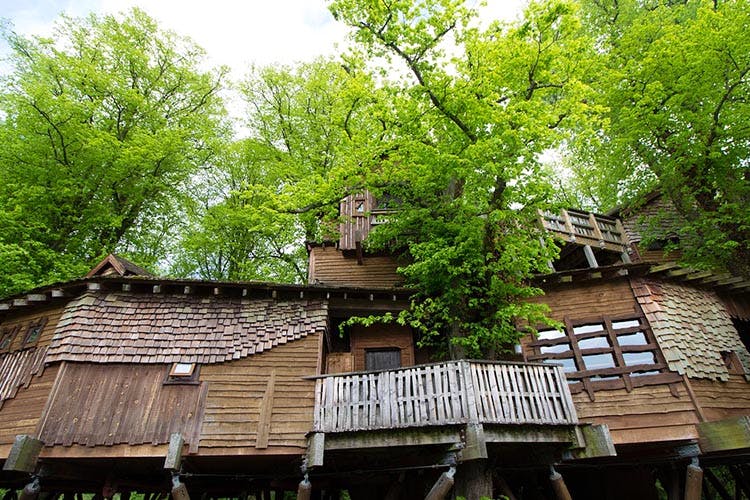 For Your Next Vacation, Escape To One Of These Tree Houses
Rustic, all-round glass, with a Jacuzzi, perched high up or slightly low – take your pick from our select list of some of the most beautiful tree house resorts in India.
The Machan, Lonavala
The Machan is an eco-friendly resort. The property is raised on wooden walkways and is surrounded by a lots of greenery. You can choose from a range of tree houses: Sunset that comes with a loft suite, private deck, open-air shower and Heritage that has the charming hanging room suspended from the cottage. Experience the hills of Lonavala with a twist by booking a machan for a getaway that brings you close to nature.
Treehouse Hideaway, Bandhavgarh
Pugdundee Safari's Treehouse Hideaway has dared to share the neighbourhood of tigers in the Bandhavgargh Tiger Reserve. The five tree houses on the property are named after the trees they are built on and were made by local staff using eco-friendly techniques and traditional craft knowledge. The loungers in the balcony add to the comfort and beauty of the resort. You can choose to laze around in the house or venture out for a tiger safari.
Treehouse Cottages, Manali
The Treehouse Cottages in Manali serve as a beautiful reminder of our undying love for the Himalayan hills The resort has a well-equipped, beautiful cottage made on a tree with its branches growing through the rooms. The interiors are modern, the rooms are very comfortable and the cottage makes for a wonderful vantage point to soak in the view of the majestic Himalayas at their gigantic best. Make sure you go for long walks and don't forget to put bird-watching on your itinerary. 
Rainforest Resort, Athirapally
This beautiful nature resort is sheltered by the majestic Sholayar forests in Kerala that is home to some rich animal and plant families. The tree house in the resort has been built by a celebrated Swiss architect and it's very, very airy so you can even do without an AC. It is equipped with all the necessary amenities and a view of the virgin rain forests that is mesmerising. Check into the tree house and wake up to the rumbling of Athirapally waterfalls and the chirping of birds – away from the chaos of cities.
Jungle Retreat, Mudumalai Wildlife Sanctuary
Enveloped by the Mudumalai forests in Tamil Nadu, the Jungle Retreat is a family-run establishment that is super particular about the safety of women guests. This eco-friendly retreat is perfect for couples, big groups or solo women travellers. The tree houses are perched up at about 33 ft in the air and offers panoramic views. 
Comments