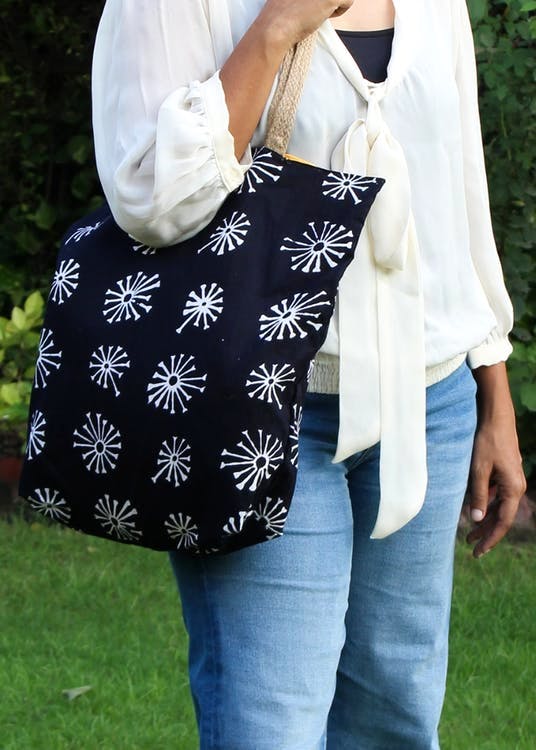 #TrendAlert: These Printed Bags Are SUPER Cute + Under ₹799
A basic tote is definitely a staple, but where's the fun there? The next move is DEFINITELY getting some gorgeous printed bags while still staying under a budget. (And don't we love saving some coin!) We're declaring a #TrendAlert and you're going to have some bags for every mood, whether you need a coin purse or a backpack- ranging from geometric, to aztec to floral, these super cool printed bags have you covered.
Indigo Printed Satchel
A bright and colourful addition to your bag selection, this indigo bag is a statement-making piece with delicate floral motifs to add a somewhat mellow version of a print to your satchel. Super easy to carry and VERY roomy- you'll have a lot of fun carrying it around while still being comfortable!
Mughal Printed Blue Clutch
This clutch is certainly going to find a special place in your closet with its alluring Mughal geometric motifs and rich deep colours, it's perfect for events ranging from a casual day out with your white shirt and jeans or make it the perfect compliment for your exuberant festive outfits!
Handmade Printed Black & Yellow Tote
Nothing beats the convenience of a classic fuss-free tote. Handmade with cotton and embellished with block prints, this tote is a sight for sore eyes with its vibrant yellow lining which contrasts oh-so-perfectly with the black exterior.
Mini Triangles Coin Cone Pouch
Geometric prints are always an artsy and trendy choice and a cone shaped pouch takes it one step further into making it an unconventional accessory for you to carry your essentials in. This coin purse is roomy enough to carry more than what its name entails so feel free to add your staples into this purse and be super fuss-free with a light and convenient accessory.
Geometric Print Blue Backpack
SUPER cool and an intense pop of colour for your outfit, this backpack is a super edgy addition and you're going to LOVE how much space and how many pockets this bag has. What a dream (I love pockets, understandably). The geometric print and azure blue is a pixelated dream and we're LIVING for it.
Black & White Print Sling Bag
Tastefully made with houndstooth fabric and faux leather, this is another fuss-free printed sling that you're going to be obsessed with because of its versatility and price! At only ₹499, this is a style steal to make all your 90's dreams come true.
Comments