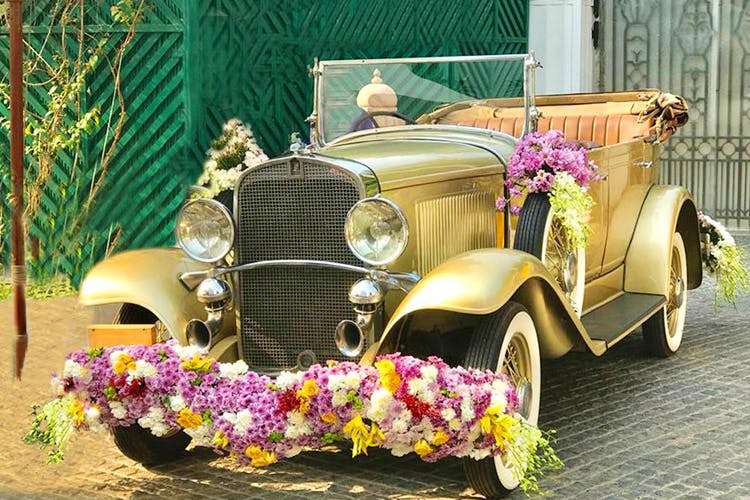 Vintage Ford Or A Limo: Arrive In Style With These Luxury Car Rentals
On a big day (say your wedding or anniversary), you deserve the best of everything. With all the pomp and splendour, we've listed a bunch of luxury car rental services to make sure that your entrance will be as kick ass as that jaw-dropping outfit you'd be wearing.
State Express
Whether it's the latest Mercedes or a Jaguar, these guys have a fleet of luxury vehicles to chose from. They provide chaffeur-driven luxury cars for your big day. You can book the car by the day, or by segmented periods of four hours. The rental varies according to the brand, kilometer limit of the car and time period. The four-hour rental rate for a Jaguar XF is INR 5,250.
Eco Rent A Car
Nothing says luxury more than arriving with your bridal party in a limousine. Eco Rent A Car allows you to rent limousines for various events, and since you're going all out with everything else on your big day, why not get the works, right?


Wedding Cars
Based out of Gurgaon, these guys specialise in vintage car rentals. They have an impressive fleet of chauffeur-driven cars to pick from. Try their vintage Ford seven-seater limousine, or a '37 Cheverolet Phaeton. They also have a selection of modern luxury cars like Mercedes, Audi, Camry and Jaguars.
Victoria Car Rental
Luxury buses, mini-vans or cars, these guys have it all. You can rent their Mercedes bus or an Audi Q 7, they have a bunch of options. They have the latest models and also do car decorations. The cost for renting an Audi A-6 is INR 18,000 with decorations.
Bike & Car Rental Services
KTC India
They have the option of self-driven as well as chauffeur-driven cars. Their collection consists of vintage and luxury cars. Pick between maybe a vintage Rolls Royce or a thundering Range Rover for your big day. However, they don't do car decorations, so you'll have to do that on your own. The cost of renting a Mercedes E Class for four hours is INR 5,400.
The Wedding Eye
The Wedding Eye, in addition to various wedding services, also has luxury and vintage car rentals. They do car decorations and have multiple models under their brands. Book a Mercedes Maybach or a Master Eagle.
Comments