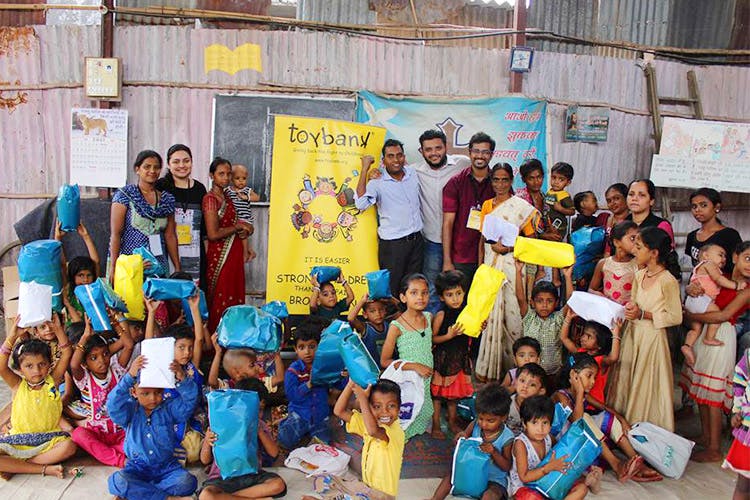 Volunteer At These 10 Places For A Kinder, Better 2019
Volunteering is that one activity that makes everyone feel at peace. However, what stops a lot of us from standing up for the cause we feel close to, is not knowing how to go about it. That's why, we've brought you a list of places where you can do your bit and volunteer to make the remaining half of the year a kinder and better one.
Robin Hood Army
Collecting excess food from lavish weddings or restaurants, the tireless Robin Hood Army provides meals to the hungry and homeless. As far as the quality of the food is concerned, RHA has stringent measures in place. They accept food either if it is freshly made, or cooked a few hours ago.
You can contribute by becoming a 'Robin', donating home-made food, or even teaching the kids at their Robin Hood Academy.
We Mean To Clean
How often have you passed a murky pavement, and cursed the government? A few times at least, right? Well, this group of volunteers were tired of everyone thinking it was the government (or someone else's) fault. The intention behind the initiative was simple: To clean up the city one market at a time.
Want to play a part? They'll be more than happy to make you a part of these meet-ups. The group organises cleanliness meets weekly/fortnightly and you can keep yourself updated by visiting their website.
Friendicoes
Friendicoes is a shelter; a place where sick animals come to recuperate, abandoned pets find refuge and every soul is offered a voice as animal lovers unite to fight for their rights. If you want to volunteer, there's no place like this. There's a lot of work, but there's lot of love too!
Visit there site to know all about how you can be of help. It can be something as small as volunteering to walk the dogs once a day.
ColoringLife
ColoringLife lets you narrow your search based on cities and your particular skill sets. They've got a whole bunch of NGOs working for disaster relief, for women empowerment, underprivileged kids, environmental conservation, senior residents' care and other causes. It might be something as small as planting a tree, designing a logo for a new NGO or even teaching yoga or dancing to children on the weekends. There's no dearth of things you can do with this initiative. Visit their site to get started.
Do Nice Shit
Do Nice Shit embodies a group of like-minded people who are trying to make the world a better place – one drive at a time. Whether it's been organizing a donation drive to collect household supplies for residents of a slum in Delhi, or mustering up support for inclusive education by providing notebooks to the students of a MCD school, there's no limit to the kind of activities DNS carries out. Similarly, there's no limit to the number of people who can join in – just reach out to them via their Instagram handle.
The Toy Bank
Giving recycled toys to less-privileged kids, The Toy Bank is an NGO that generates smiles. Taking contributions from major multinationals and big schools, the non-profit matches each toy with the age, gender and intellectual capacity of a child before presenting them with their playmate. You can participate in any way you want to (volunteer or donate). Visit their site to learn how to join them.
HelpAge India
The only thing that the elders at an old-age home want is to be heard. HelpAge India is already helping the elderly with shelters and medical care, but they always welcome volunteers who can offer them some much-needed emotional support. The NGO has various centres, and if you can spare even a couple of hours on a weekend to spend quality time with them and lend them a listening ear, visit their website to join.
Music Basti
Music can give you not just skills, but also a lot of confidence and positivity. That's why Music Basti collaborates with schools and community organisations to train kids who come from a vulnerable background in a bid to to encourage creativity and confidence. To volunteer with them, you'll have to visit their site and submit an application.
Clothes Box Foundation
Clothes Box Foundation has a vision of the future that every individual should have clean clothes to wear, and in an attempt to achieve this vision, the company collects clothes from your doorstep at a nominal charge (or you could drop off the clothes at one of their collection centres) from where they are given to those in need across the country. Visit their site to learn how to go about donation.
Goonj Foundation
This NGO fights for basic human dignity and is turning discarded material into resources which bring about major changes in the lives of the underprivileged. For them, a big aim is to change the way we view old clothes – not a charity, but a respectable apparel to someone who can use it. You can give them a monetary contribution or usable materials likes clothes, footwear, school items, office equipments, furniture, toys and more at their dropping centres. Check out their website to find out how you can volunteer or donate.
Comments