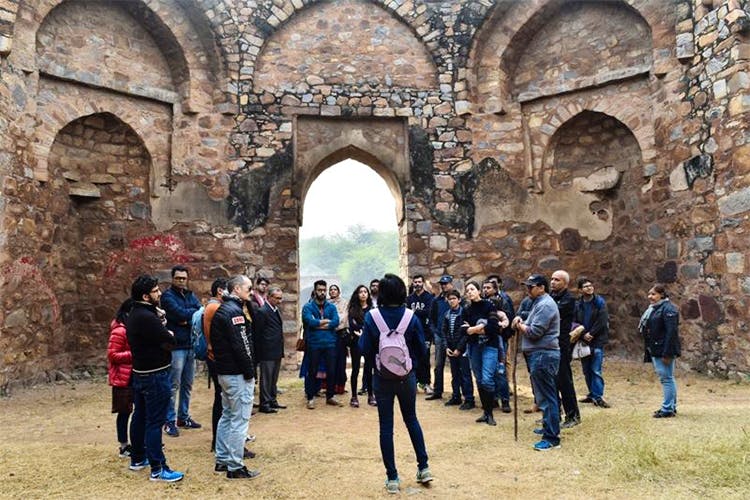 Weather's Getting Better: Explore The City With These Walking Tours
Delhi, as we know it, is a huge maze, and to manoeuvre it can be a task—especially if you are new to the city. Here's our pick of walking tours to get in touch with and to see the city on foot.
Delhi Heritage Walks
Our top pick for guided tours, Delhi Heritage Walks curates and has pre-curated walks for travelers and locals. They take you through the standard, popular neighbourhoods, and also give you the option of picking one (even if it isn't listed), as well as picking the day, date and time. If you're a local who'd like to conduct the walk, get in touch with them.
To view their calendar, and get in touch with them check out their Facebook page (called Heritage Walks) and website.
Master Ji Kee Haveli
Their tours are a combination of walks and cycle rickshaws rides, and they take you through streets, historical sights, and bazaars, and allow you to experience culinary treats. Tours are conducted in English, and range from half day to full day. You also get a complimentary meal at the haveli. Their walks are restricted to Old Delhi and its surrounding areas, and there are probably very few tour guides that know it better.
Delhi By Foot
Besides walks, team DBF also undertakes heritage conservation efforts, photo walks and photo exhibitions. They schedule walks every weekend, with a fixed start and end point. They also have a food trail walk and cultural journeys through the city. If you're a group, an organisation or a company, they're happy to customise walks as extensions of their existing calendar.
To book a tour, and get the full lowdown, check out their website and Facebook page too.
Delhi Walks
Sachin Bansal founded it with the intent of showcasing Delhi to world citizens in the best, most thorough way possible. They have walks for first timers, educational walks in museums, custom walks etc. They cover areas such as Lodhi Gardens, Tughlaqabad Fort, Old Delhi etc and all of these are in conjunction with Delhi Tourism & Transport Development Corporation.
To view a full list of walks, check out their website.
Delhi Food Walks
Tours are customised to meet your time and date preferences; they conduct weekly expeditions based on local fare, which include street food from Chandni Chowk, Tibetan treats at Majnu Ka Tila, on-demand cooking classes to help better understand Indian Cuisine & much more. Food walks have an endless supply of bottled water, and experts who know their food and food culture.
To view their full list of walks, check out their Facebook page.
The Delhi Tours
With places like Jama Masjid, the narrow lanes of Old Delhi, and the Kinari Bazaar, Delhi Tours has got it down to a T. With local English speaking guides, air conditioned transport, and bottles of water in abundance, these guys will show you Delhi unlike never before. They also do culinary tours, museum tours, rickshaw tours through Old Delhi, and a spices and perfumes tour.
For all the info on walks and bookings, check out their website.
Delhi Karavan
Delhi Karavan is a passionate bunch of folks who organise literature-based baithaks (storytelling events), karavans (walks), daawats (food walks), workshops and customised heritage walks all across Delhi. They'll share ancient city stories, help you taste the best of age-old recipes and give you history lessons which won't bore you to death. These walks are organised every two weeks or so.
GointheCity
GointheCity is a start-up that hosts immersive experiences in the city and one of their most interesting walks has been the one on GB Road on the Tawaif Culture. Their guides are all experienced and the groups small (7-10 people) ensuring that people's questions are answered and things don't get too chaotic.

Seek Sherpa
Heritage, shopping, nightlife, photography or bus tours, Seek Sherpa is a venture that organises it all. You have the option to choose your own dates or you can also sign up for the walks these guys are anyway organising in a given week. Each listed experience also has a reviews section that lets you make a better decision as to which walk to sign up for.
Comments