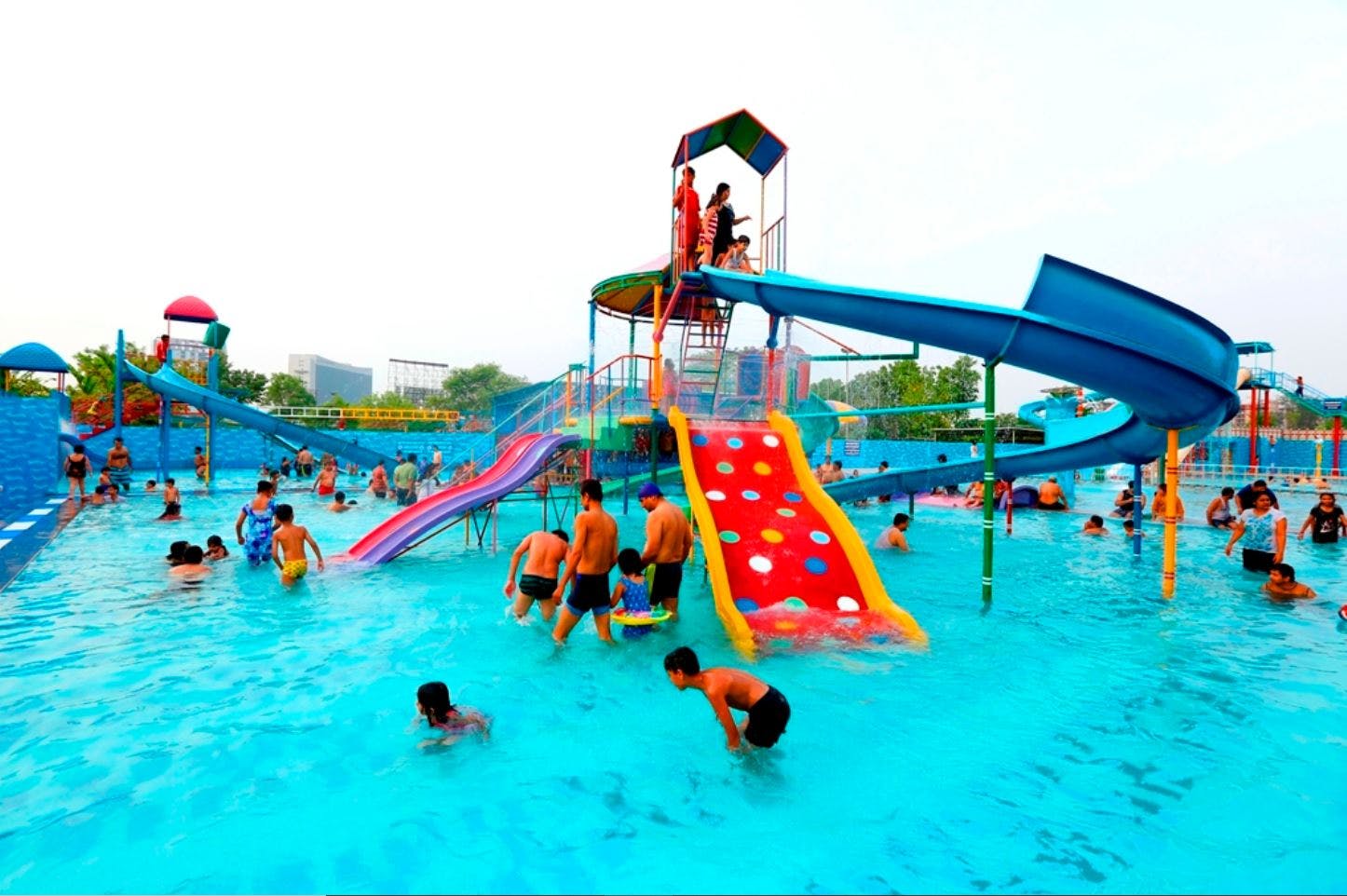 Up For Some Summer Fun? Cool Off At These Water Parks In Gurgaon
The heat's been getting to all of us lately and the only thing actually worth stepping out for is probably a trip to a water park (and food, obviously). Luckily, G-town has some of the best water parks in the NCR, so if you live there, here are a few you can head to.
Oyster's Water Park
What used to once be Appu Ghar is now Oyster's Water Park. Kids or senior citizens, this water park has rides for everyone. With 15 exciting rides, waterslides, an artificial sea wave pool and massages in the cabana, it's for those who enjoy rides and a chill, rejuvenating vibe. Their massive rides, and twisting slides are super fun, while we hear the Typhoon and Thunderstorm aren't for the faint-hearted at all. They also have a long, winding tube tour that takes you on a ride around the whole park.
And that's not all! Apart from the rides, they've got a spa, a restaurant, an arcade centre, and a bar as well. If you're looking to spend some quality time with the fam (and have some fun in the water too), this place lets you do both.
Oyster's water park is open from Monday - Sunday, from 11 AM - 6 PM. Ticket prices are INR 666 for children and senior citizens, INR 888 for adults, and INR 999 for adults, inclusive of an INR 150 food voucher. You can buy the tickets through Book My Show as well.
Fun N Food Village
Everyone's come here at least once as a kid – the place used to be pretty iconic back in the day. Fun N Food Village has 22 different water slides to pick from in addition to their separate amusement park. They have separate rides for kids and adults and a fun rain dance for everyone to participate in.
They have the longest water slide in India and the fastest in Asia. Their amusement park has 21 different rides and they even have a massive indoor snow park. They've got a variety of food options inside, so you can refuel here after all that splashing around.
Fun N Food Village is open from Monday - Sunday, from 10 AM - 7 PM. Ticket prices are INR 1,000 for adults and INR 600 for children.
AapnoGhar Resort Water And Amusement Park
AapnoGhar Resort Water And Amusement Park has everything under one roof. One of the oldest amusement parks in the city, it's known for its turbo-twister slide and aqua tube slide, water mushrooms, and not to forget their giant, tipping bucket of water. If you just want to enjoy the water without any rides, you can chill in their mist pool.
They have other stuff like a rain pool and a rain pillar but if you're tired of all the water splashing, they have some really nice puppet shows. After everything, hit the food court for a hearty meal of bajre and makke ki roti with sarson ka saag.
AapnoGhar is open from Monday - Sunday, from 9:30 AM to 7:00 PM. Ticket prices for children start from INR 899 and for adults, from INR 1,199.
Wet N Wild
The first water resort in the country, Wet N Wild promises a whole world of water-themed fun. The resort is away from the city and that makes for a nice getaway. They've got a bunch of really cool water rides here. To begin with, they have five massive pools, water slides for adults and children, and a bunch of exciting rides. They have something called the Tornado and the Pendulum (something we're excited to try out).
They've got a bowling alley and restaurants at the resort, so you can spend your time here once you've had your fill of the rides.
Wet N Wild water resort is open from Monday - Sunday, from 10 AM to 8 PM. Entry ticket for children upto the age of 10 years is INR 400 and for everyone above the age of 10 is INR 500.
Comments