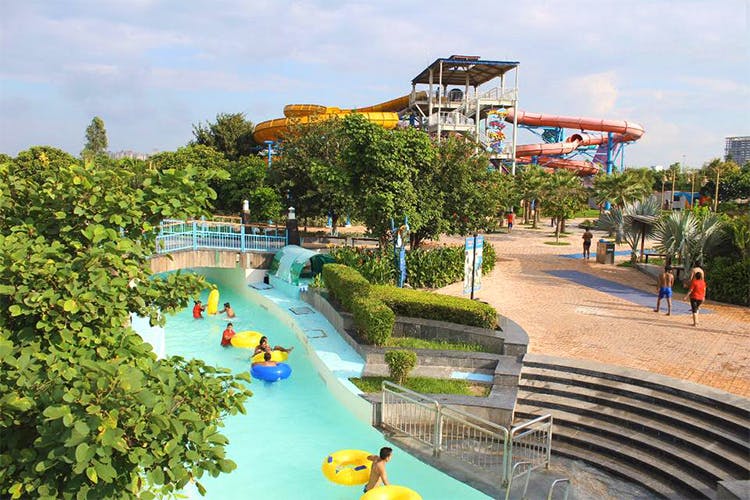 Bookmark This List Of 8 Water Parks To Hit Up Around Delhi NCR
Summer time is pretty much a water park season. Thankfully, our city has plenty of them with the coolest of water rides. So, for the times when you just want to keep swimming (keep, keep swimming), these eight water parks in Delhi will have you covered.
AapnoGhar Amusement & Water Park Resort
One of the oldest amusement parks around town, AapnoGhar has a turbo-twister slide and an aqua tube slide that'll get your adrenaline pumping like never before. If you're a water baby, you'll love the giant, tipping bucket. And, just when you can't take anymore of the rides, attend the puppet shows here or drop by the food court for a desi meal of bajre and makke ki roti with sarson ka saag.
However, they don't allow stag entries and that's a bummer.
They have packages ranging from INR. 899 - 1499. Do check out their website.
Just Chill Water Park
They've got an impressive variety of water slides with different zig-zag courses, those with varying heights, tunnels, intensity of drops, all of which are just SO exciting. The Tarzan zipline, wall climbing, tyre obstacle course and Burma bridges are some of the things that the little ones will definitely love.
Their rates for kids shorter than 2.9ft are free. Tickets range from INR. 400 - 600. Check out their website to know about stag and couple entries.
Drizzling Land
Hey, they've got their own version of Kempty Falls, so do you still need another reason? Roller coasters, pendulum rides, massive pools and 30+ activities that make up the adventure park section should be good enough. They've even got a poolside food court, and will be launching Mud-Adventure activities too. It's safe to say that Drizzling Land is more than just a water park.
Charges: INR. 550 - 850 per person. Stag entries for men cost higher but they also have economical packages.
Fun N Food Village
As kids, Fun N Food was one of the coolest amusement parks in town. While it's not as epic now as it used to be, it still is a park worth checking out, for its 21 adventure rides and 22 water slides. Fun N Food Village also has an indoor snow park, one of the longest water slides in India and the fastest slide in Asia. Old, but still epic for a reason, right?
Their passes start at INR 1400 (stag entry), INR 2000 (for couples) and it's INR 500 for kids (prices don't include GST, so do the math).
Splash Water Park
Splash is a relatively smaller water park, but it still offers plenty of fun rides like the multi-lane slide (perfect for those slide competitions), the Buddha Waterfall and the Hara Kari Slide with numerous loops. Just a little heads up, Hara Kari in Japanese means 'ritual suicide', so it clearly isn't a slide for the faint-hearted. They've also got numerous pools with varying depths that are great for every kind of swimmer.
Charges: INR 400 - 1000 for adults, and INR 400 for kids.
Adventure Island
This family-friendly theme park has water rides like Aqua Bump, Splash Pool and Splash Dunk (where you literally splash dunk-ed). If you want to keep it low-key, you can enjoy Sha La La, which is the park's Rain Dance place. The recreational Amazon Mist Forest is one of their hits!
They have many rides otherwise, but it'd be better if you check on their availability before you go.
The entry fee for the park costs around INR 300, and some of the rides are charged individually starting at INR 100. Also, their website has some decent offers and deals, so check it out too.
Worlds Of Wonder
Pack your long-forgotten swimsuit and head to WOW with the gang ASAP. Turbo Tunnel, Raft Ride, Free Fall and Boomerano are some of our favourite rides at this park. In case you're too scared to go through winding pipes (or to jump off heights), floating around the Lazy River's a great option too. For when you're done with your quota of water rides, they've even got a two-stroke karting track that's worth checking out.
Tickets start at INR 1099 and can go up to INR 1475. Do check out their website to know more.
Wet n Wild
We'd recommend this if you're looking for a calm but fun get-away. They have upto five swimming pools and have rides like the Tornado, Pendulum and a couple water slides. They offer classy rooms and suites, and also a great dining experience, so go here if you want to spend a couple of days out.
They have packages for parties, and functions and do take online reservations. Check out their website to know more.
Comments