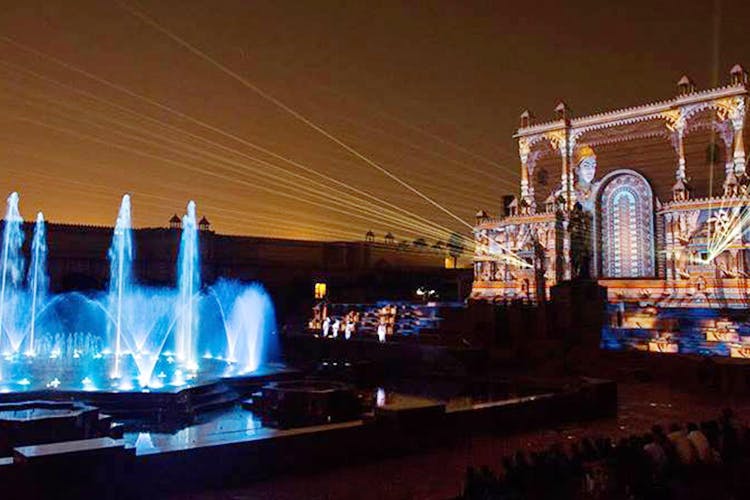 Nearest Metro Station:

AKSHARDHAM
Water Shows, Giant Theatres And More: Akshardham Isn't Just A Temple
Shortcut
The Akshardham Temple, while known for it's stunning architecture and spiritual significance, actually has a lot more. We've listed all the exciting things this space has to offer.
Thematic Gardens, Boat Rides, You Can Spend A Whole Day Here
The sprawling spiritual-cultural campus is undoubtedly one of the most meticulously planned buildings of Delhi. Begin your day by walking through the two thematic gardens, Bharat Upavan and Yogihriday Kamal, a lotus-shaped garden. They're filled with bronze statues of inspiring personalities and freedom fighters. Visit Abhishek Mandap for the fulfilment of one's prayers. Walk over to their giant screen theatre and watch Neelkanth's mesmerising spiritual journey across the Indian subcontinent.
Walk into the Hall Of Values to see some incredible art and media presentations, all aiming towards depicting universal values of love, ahimsa, service and humility. Board a 12-minute boat ride and witness an elaborate display of life in the Vedic era. As sunset approaches, sit down for the Sahaj Anand multi-media water show, with lasers, music and underwater flames. Make sure you stick around for the evening aarti. 
So, We're Saying..
If you're new to Delhi, or haven't been here already, Akshardham is a fabulous place for a family outing. You can easily spend a whole day exploring the various activities taking place here.
Comments
Nearest Metro Station:

AKSHARDHAM