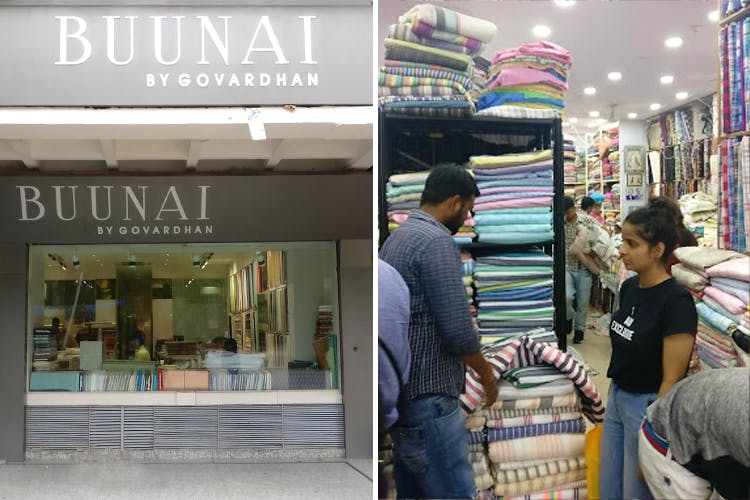 We Went On A Fabric Hunt In Nehru Place & These 5 Stores Stood Out
While Nehru Place market is mainly known for electronics, knockoffs, and street vendors trying to convince you that you oh-so-badly need that screen guard for your phone, not many people know that the market also has a whole section dedicated to fabric shops that will blow your mind with their variety and quality. We picked out five of these fabric shops that we think should be on your radar.

HP Singh
Probably the biggest store with widest range of fabrics in the market, the HP Singh shop is easy to get lost in. Their basement is divided into sections, fabric-wise, where you'll find everything from inexpensive materials to premium imported ones. They've got fabrics like cotton, linen, faux fur and anything else you might be looking for.
The design options seem endless here as well–find anything from solid colours, stripes and prints to florals, geometric patterns and checks. Be it for kurtis, shirts, suits, dresses, or pants–you name it, they have it.
Price: The range of fabrics here starts at INR 350 per metre. Premium fabrics for men's shirts start at INR 650 per metre.
Buunai
You'll walk into a clean, well-organised store when you enter Bunnai. Their collection is focused primarily on linen with a little bit of cotton-linen mix complementing it. They've got a wide range of coloured fabrics and prints to choose from and the quality is undoubtedly on the high end. We really liked the printed options they had for shirts (in a cotton-linen mix).
Price: For men's shirts, pure linen starts from INR 563 per metre and the cotton-linen mix from INR 325 per metre. For women's dresses and kurtis, pure linen starts at INR 749 per metre.
Kuku Fashion
You'll find a crowd of customers in this store more often than not and for good reason, too. Suggested by our friends who have actually bought fabrics from here (and gave rave reviews), Kuku Fashion is a fabric haven when it comes to quality and choices–the fact that they supply fabrics to brands like Zara and Tommy should be testament enough (something they claim). You'll find checks, stripes, prints, plains, and Ikat for shirts, tops, dresses–all kinds of western wear.
Psst! This is a great place for sourcing if you're a designer.
Price: The range of fabrics here starts at INR 250 per metre.
R.G. Jindal & Sons
We loved this store for its selection of printed fabrics. They've got them for shirts, trousers, dresses and basically whatever else you can think of making out of them. They primarily deal in cotton and have printed designs like anchors, cacti, fun tropicals–all of them in pastels and vibrant colours we love.

Price: INR 350–450 per metre is the price range you'll find here.
Sahni Fabs
A store dedicated to Ikat, Sahni Fabs on the first floor of the complex, is the store for you if you're looking for a range of Ikat designs. We browsed through the whole store and came across some amazing ones.
Price: The range here starts at INR 290 per metre and goes up till INR 550 per metre.
Comments