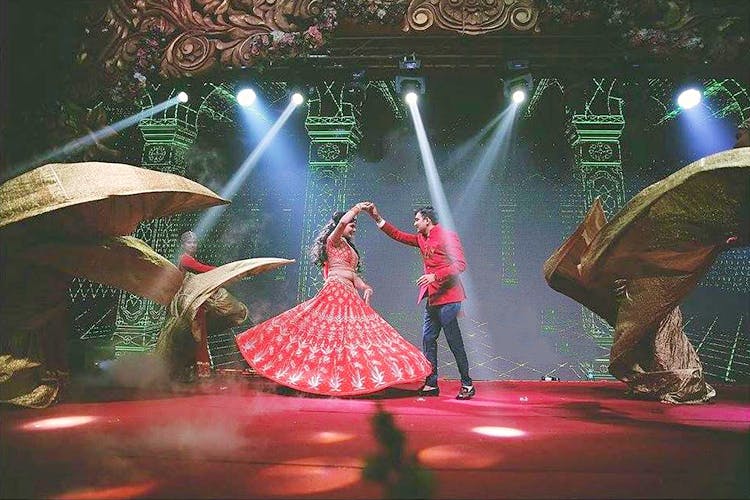 Hit Up These Wedding Choreographers For A Fabulous Sangeet
Gone are the old-school dholak-and-chammach sangeets. The new-age ones are full of every rishtedaar ready to set the stage on fire with their moves. And, to handle all that choreography, here's a list of awesome wedding choreographers across town that you can call.
Sway For Dance
Recommended For: Kickass choreography that won't cost a fortune. A trained team as well as a Bollywood dance troupe, they'll make you groove for sure—whether it's for a single performance (charges for which will be INR 4,000 onwards) or an entire sangeet.
Price: starting at INR 35,000
Yellowstripe Dance Co.
Recommended For: Conceptualising and prepping thematic sangeets. They even do amazing flash mobs, proposal-mobs (sounds SO romantic), LED coordinated dances, lip-dubs and videos. If you're planning a destination wedding, these guys have a team across Delhi, Mumbai, Pune and Dubai, so you're pretty sorted.
Price: starting at INR 80,000
Casa De Dance
Recommended For: Doing fun, groovy numbers that your entire family (including dadas and dadis) will enjoy. These guys also do lip-dubs, editing of audios and videos, VOs and creative entries for the bride and groom.They're open to doing a single medley (it'll cost INR 8,000 approx) and for bigger groups, they've got multiple packages for you to choose from, which begin at INR 45,000.
Happy Feet
Recommended For: Creating energetic routines with comic elements that your audience won't stop cheering for. They'll also edit your music and send you videos of the choreographies beforehand so you'll know what to expect. They're open to taking on both Delhi-based and out-of-town projects.
Price: They charge around INR 2,200-2,500 per minute of choreography.

Lachak
Recommended For: Bringing out the personalities of each and every family member on stage. Along with choreographies, they can also do lip-dubs and arrange special effects like dry ice, CO2 guns, pyros and more that's surely going to make for a stunning sangeet. Their packages start from INR 64,000 for about 8-10 performances.
Sugandha Wadhwa
Recommended For: Choreography that is very simple to execute yet super-fun to watch. She's got two packages which begin at INR 80,000, and several chargeable add-ons including theme-based choreography with stage elements, LED visuals, background dancers, DJ, emcee, trousseau packing, stage decor, photographers and even travel packages for the happy couple.
Twirls & Thumkas
Recommended For: Concept choreography. They're specialised in turning a sangeet into a kind of broadway-inspired event which includes props, back dancers, graphics, production, scripting, shooting, pyros and even movies based on the bride and groom's story.
Price: starting at INR 2 lakh
Comments