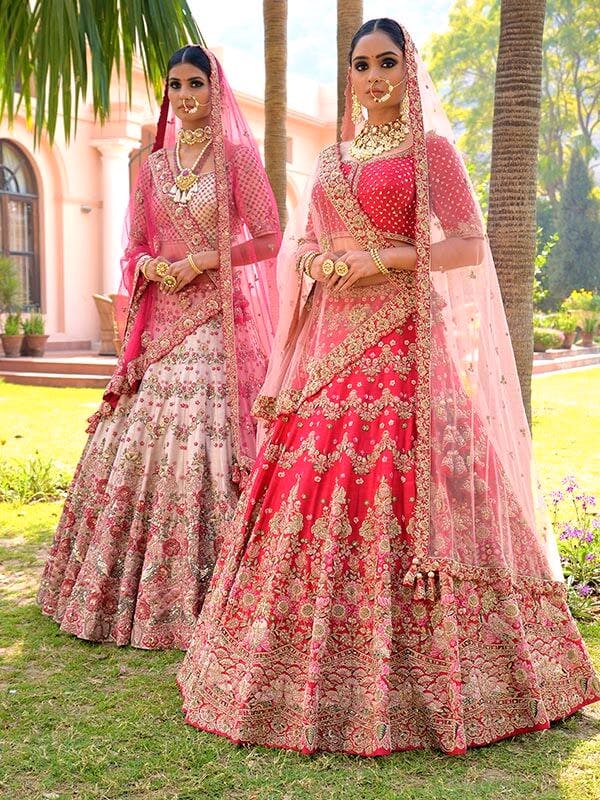 A Guide To Wedding Shopping In Delhi For Any Kind Of Bride
Brides-to-be, we understand that finding the perfect D-day outfit which is classic, contemporary, and stylish, yet does not break the bank, is one difficult task. So, we turned to the wedding planning portal WedMeGood to give us recommendations on where to go wedding shopping in Delhi. Take note.
Ekaya
If elegant, banarasi, chanderi, and pure silk is what you're after, then you need to cut through the bling and glitter and find some stores that sell exquisite fabrics. We recommend Ekaya for lovely banarasi lehengas, and saris. Their price range starts from INR 20K above.
Asha & Gautam
Another great label, if you're looking for silks, is Asha & Gautam. This label has wonderful, intricate patterns as part of the weave. They retail in fine Paithani, Patola, and Banarasi Uppada silk saris. But apart from these, they have amazing zari and gota work done on lehengas and saris as well.
Gazal Gupta
Gazal Gupta crafts beautiful lehengas that are always in trendy colours, and wonderfully embellished too. You'll find a lot of velvets and hand-embroidered pieces that give off a very luxurious vibe. Also, If you're some one who enjoys wearing unique designs with funky elements, you'll definitely like this boutique's collection.
Dolly J
Dolly J is one of the labels that is very sought after, especially when it comes to bridal wear. This label crafts amazing embellished lehengas in both traditional and experimental variations. Here, you'll find pretty pastels as well as traditional reds and fuschias. The work on the lehengas are all in lucknowi chikankari with beautiful floral embroidery work.
Madsam Tinzin
Madsam Tizin, is a label that is full of contemporary designs and silhouettes. Though, along with that, they also have quite the bridal collection. They concentrate on fine craftsmanship (embroidery and surface embellishment) on each of their garments. So basically, if you're someone who enjoys modern design but with an ample amount of traditional context, this is your label.

Asiana Couture
Asiana Couture specialises in hand-done embellishments; especially sequins. Along with that they also create beautiful quilted textures on their bridal lehengas. You can expect Mukaish work done on rich velvets, with jewel embellishment as well. More importantly, they have bridal wear collections from multiple designers (for instance, Payal Keyal) at their boutique, so you'll have many options to chose from.
Ram Kishan Sarees
Ram Kishan Sarees have eveything from traditional and popular bridal lehengas in velvet and red hues to Georgette lehengas with beautiful Zari work on them. Along with this, they have raw silks with fine Zardozi embroidery as well.
Inaya Couture
Inaya Couture has mostly a large collection of lehengas (rather than saris). Their best bridal lehengas are made of beautiful handloom and Banarasi silks. You will find a large amount of Mukaish and Zari work done on them. They put a lot of focus on making garments that are very much in trend the season they come out. For instance, right now, a lot of pastels are doing the rounds, so they've got a lot of pastels and bright neon colours as well.
Samiksha
Samiksha, is just as great for the traditional bride as it is for the experimental one who wants embellishments, metallic colours and unique cuts to look special on her wedding day. If you head to this store, you'll see a lot of contemporary pastel-coloured lehengas, or silk bridal wear that have a fair amount of embroidery on top. As well as darker, more traditional lehengas that are always a classic.
Shiva Jangra
Shiva Jangra has absolutely stunning, pastel-hued lehengas and ethnic gowns for the bride who likes to keep it simple and subtle. You'll find lots of neutrals, and elegant embellishment at their store. Also, Shiva Jangra is big on intricate, hand-embroidered work done on their garments.
Bageecha
Bageecha is the place to shop at if you love yourself heritage textiles like banarasi silks. So, whether you're looking for banarasi silk lehengas, or saris, this is the place to go.
PS: You can find, shararas, anarkalis and dupattas here too.
Lalit Dalmia
Lalit Dalmia now also has a store in Kohat Enclave, and let us tell you guys it's humongous. They have have beautiful embellished lehengas in every hue that a bride could imagine. From bright reds, hot pinks and deep reds to light pinks, this designer boutique has everything.
Akilah
Akilah is a multi-designer store that has garments by Masaba Gupta, Ayushi Bhasin and Shruti Sacheti, as well as many other designers. So here is one store you can head to when you need more options/variety to choose from. You can shop for everything from lehengas and saris, to accessories like shoes and potlis here.
The Silk Tree
This label is perfect for the brides who like to keep it easy and breathable because you can find a lot of light Banarasi silk lehengas, light suits and draped jumpsuits here. Mainly, this brand is a great options for when you need to shop for haldi or sangeet ceremonies.
Comments