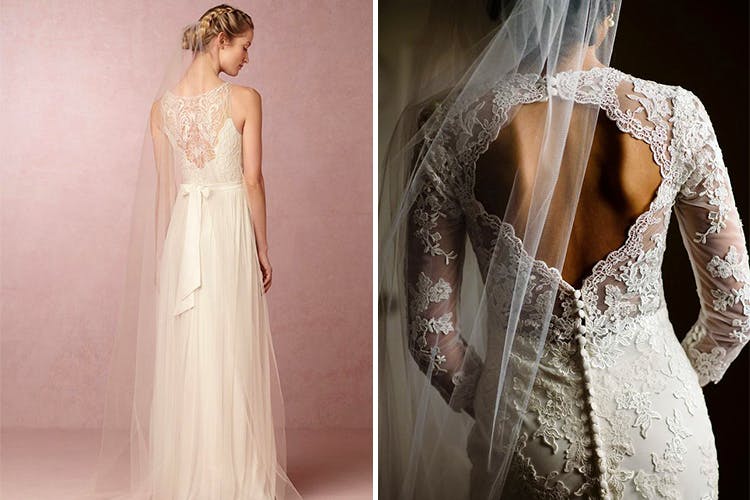 Here Comes The Bride: 9 Stores To Check Out For That Perfect Wedding Gown
Classic white, pink or maybe even a gold, we're telling you where to get the perfect gown for you to walk down the aisle in.
Sincerely Bridal
Glady is one of the renowned wedding gown designers in Delhi and her boutique Sincerely Bridal provides you with a number of options. You could also take along cut outs from your favourite magazine (yes, you can get a Kate Middleton-eque dress) and create your own. They even keep wedding jewellery, designer gowns and bridesmaid dresses.
Price: Starting at INR 15,000
Christian Heritage
They have a wide variety of dresses and gowns for brides on a budget. And that's not all, you can get garters, cakes, cards, accessories and even unity candles from them. Christian Heritage has been in the business for more than 16 years, so you can be sure that you'd be in good hands.
Price: Starting at INR 15,000
La Fantaisie
They've got a decent collection of elegant wedding dresses and with every wedding dress you buy, you get a matching veil and gloves created with the same fabric. You can also buy jewellery, tiaras and petticoats here. Within 45 days, La Fantasie will create the wedding gown of your dreams and it offers great option for those on a tight budget.
Price: Starting at INR 10,000
Kanika J Singh
She works with materials such as silk, chiffon and organza, and specialises in opulent wedding gowns and cocktail dresses. Whether you want colour block or ombre, chances are you'll find it here. Note that she requires a minimum 6 weeks, so make an appointment way in advance.
Price: Starting at INR 20,000
Gaurav Gupta
He doesn't do the traditional ivory gowns with the veil but if you're looking for something more contemporary, embellished and with the odd frill here and there, Gaurav Gupta's your guy. Vogue, L'Officelle, Elle and Nylon are among the many well-known magazines that his designs have appeared on. He has also styled celebrities like Aishwarya Rai, Deepika Padukone and Julie Berman. You can check out Gaurav Gupta's collection at his studio in DLF Emporio.
Price: Starting at INR 2 lakh
Geisha Designs, Mehrauli
Geisha Designs has become a very popular brand over the years, known for its wedding wear with fine cuts, excellent hand embroidery and garments with impeccable fitting and finish. Within a minimum of 8 weeks' time, this brand can give you custom-made couture bridal gowns that demand admiration.
Price: INR 40,000 – 1 lakh
Grace Wedding Gown
You can design your own wedding dress here (with guidance, of course). They also do bridal make up so that saves you a couple of trips to various salons. The best thing about Grace's boutique is that they can create your perfect wedding gown within a minimum time of two to three weeks, so you know who to call when you're running short on time.
Price: Starting at INR 15,000
KM by Kanika Manchanda, Shahpur Jat
They specialise in gowns, dresses, jackets and skirts, so you can bookmark it for most of your wedding shopping. She also does some pretty georgette gowns with hand embroidery. Between the span of 2 weeks to 3 months, Kanika can create custom designed outfits from scratch that'll definitely impress you.
Price: Starting at INR 50,000
(with inputs from Wed Me Good).
Comments