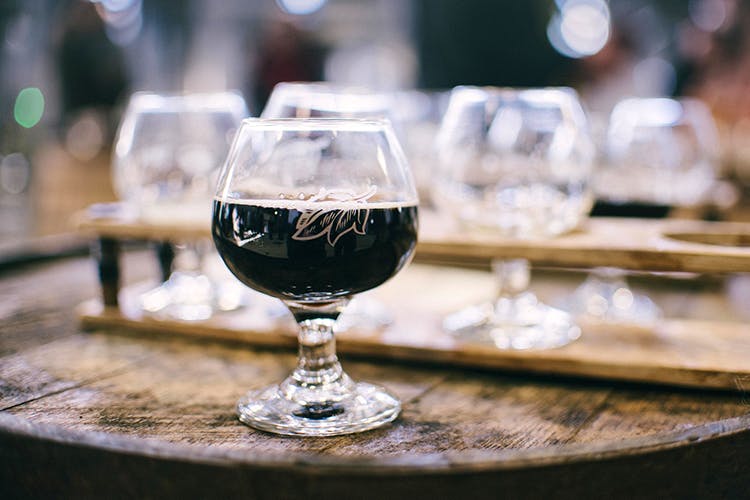 Let It Flow: A Wine Gifting And Pairing Guide
There may not be a better present to kick off festivities than a case full of wine. Clueless? Read on.
The trick – go simple and a tad desi. Light whites, blush roses, non-oaky/non-tannic reds are the best for gifting. They are easy-drinking, unpretentious, rather easy to decipher, and can lift any soiree. Also, needless to say, there are no better ambassadors of a celebration than romantic bubblies and sparkling wines. The satisfying sound of the pop, the clinking flutes, and the creamy textures of the playful bubbles: What's not to like? Here are some names to get you started.
Saint Clair Pinot Noir, New Zealand
Though the winter is the best season to bring out the oaky, tannic, bodacious reds, fill your copas with the warming alcoholic Spanish and Argentine inky ones; it's good to sometimes give them a rest and turn to some equally discerning light reds. Let the wine do the talking, with its structured, yet approachable, finesse-driven palate oozing with crushed strawberry, cranberry sauce, red cherry tang, blood orange citrus, and a husky tannic back.
Drink while it's young; however, it can sleep well for a couple of years too. Perfect with mushroom risotto and goat cheese fritters.
York Winery Sauvignon Blanc, India
Sauvignon Blanc is a perfect aperitif. A great way to start a Sunday brunch, or even great when served chilled on an evening while enjoying the sunset. The wines have refreshing acidity, and mark a crispy palate with nuances of gooseberries, asparagus, crunchy lime zest, and at times a lift of aromatic elderflower, and a touch of sweet white fruit to finish with. Relish them in their youth and don't forget to serve them ice cold.
Reveilo Merlot, India
Merlots are a safe bet for any occasion. They're fruity, moderately tannic, smooth-curved, and have an amicable approach. Its compatibility with an array of dishes and acceptability amongst novices and connoisseurs alike makes it a 'must-have' on any list. Reveilo's Merlot is a pulpy red fruit-forward sipper, with a scented lift of freshly crushed rose petals, pomegranate juice, and a hint of sweet spices from a minor contact with oak. Good one to have with chicken sausage rolls, lamb sliders, and seekh kebabs.
Fratelli Vineyards Chardonnay, India
A kiss of oak on your beloved Chardonnays make them sturdy, elegant, and a tad masculine. Fratelli's Chardonnay guarantees the best of fruity flavours along with the grip, huskiness and the dustiness of the toasty oak. For those occasions when you wish to enjoy a simple yet smokey drop, with kebabs and grilled dishes, this baby will enhance your gastronomical treat.
Torres Vina Esmeralda, Spain
If you enjoy a touch of sweetness in your wines, this one will satiate your palate. This Spanish white brings alluring notes of white flowers, rose petals, orange marmalade, lychees, peach puree, and a hint of white honey. The easy drinking wine adds excitement to any party offering, and is guaranteed to be enjoyed by everyone.
Boekenhoutskloof, The Wolftrap Rose, South Africa
Roses are the hippest drink. They are a perfect curtain of separation between the whites and the reds, and sometimes they can be a treat as well, by bringing in the best of both worlds in a single sip. This South African drop ensures refreshing fruity acidity while delivering sweet red cherry compote, cranberry candy, and strawberry puree notes, finishing with a kiss of tannins. Don't be surprised if, at your next gathering, this one is the first you run out of.
Chandon Rose, India
Chandon promises consistency and finesse. Light touches of cranberries, red cherries, crushed rose petals, red apples, black pepper, and sweet spices fills the flavour spectrum, only to leave you asking for more. Enjoy those creamy bubbles while in their youth. While this wine would pair well with most tomato-based gravy dishes, light pastas, pizzas, and Teppanyaki grills, why not try it for breakfast?
Grovers Zampa Soiree Brut, India
It's the prettiest and the neatest-looking Indian sparkling wine on offer; also the most consistent. A blend of ripe white fruit flavours, green fruit peel, mouth-watering lemon and sweet lime acidity, this wine goes well with grilled seafood and white meats, cheese platters, and creamy pasta.
Sula Vineyard's RASA Shiraz, India
Heavy curries, rich gravies, meaty BBQ grills, and meat-rich dinners need a companion who can stand up to the spice and smoke. Shiraz is a masculine macho man who can pair well with all of these meals. Once love-struck with a Shiraz, it's hard to even consider another. Sula Vineyard's Shiraz is a great gateway to develop your taste buds towards the dark berry-flavoured, smokey, black pepper-laden heaviness of the varietal. Age it for a few years and it will throw in some extra notes of leather, chewing tobacco, freshly-roasted coffee beans, roasted mushrooms, and wet earth.
Grover Vineyards La Reserve, India
When it comes to baffling European wine patriots with a glass of an Indian red, La Reserve leaves many speechless. It has been the pride of India internationally as a French-accented desi wine from the lush vineyards of the Nandi Hills. The Cabernet Sauvignon-Merlot blend is for the robust red lovers who appreciate the marriage of earthiness with rich varietal flavours, and a layer of dusty oak empowering the wine with the pillars to stand on for a decade. Mutton rogan josh, burra kebab, pepperoni pizza, or any meaty feast goes well with this one.
Comments