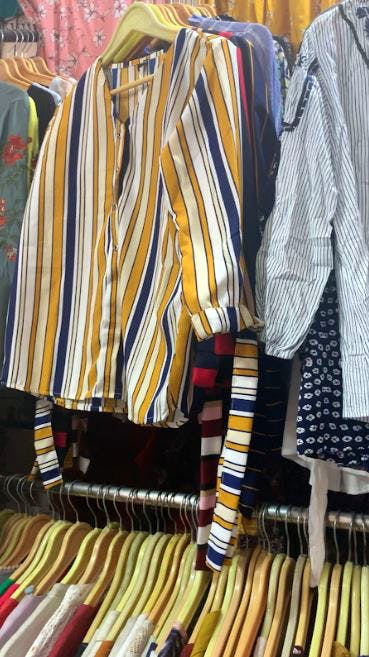 Airport OOTDs Or Back-To-College Wardrobe: These Rajouri Stores Can Help!
Rajouri Garden market has always been considered great for ethnic-wear shopping. But in case you're not sure about the stores for western-wear, we have your back. Although, the market is closed on Wednesdays and crowded on weekends, make sure to visit this in the morning hours for a fun shopping experience. For the upcoming fresher parties, house-warming nights, get-togethers, and for brunch outings - you'll be sorted.
If you are wondering how to reach, Rajouri Garden metro station located on the blue line is the closest.
Pari Collection
Love western-wear at affordable prices? Of course, who doesn't? With tops starting from INR 150, this place in Rajouri market could turn out to be a heaven for you and your wardrobe. Let us tell you, this store has so many options, be it dresses, tops, trousers and once you are there, do not forget to check out their collection of party-dresses (because that's great!).
Inner Circle
From off-shoulder tops to sequinned ones, this store has a great variety. Although, we recommend visiting the Inner Circle for a great selection of bottom-wear. We found really cool joggers (perfect for your travel), skinny jeans (perfect for outings), leggings (perfect to team it up with your favourite kurta), and jeggings in vibrant colours.
Their tops start at INR 700 while their bottom-wear starts at INR 550.
Cue
Cue is a fancy looking store located in the main market of Rajouri Garden. At first, we thought that the apparel here might be expensive but as we entered, we realised that one can find a lot of stuff according to their budget. We found really cute cold-shoulder tops, plaid skirts, skorts, and evening gowns. So, go and start shopping!
Bitfemme
Bitfemme is perfect to head to if you are looking to shop for dresses and tops (mostly singlet tops). They also have a good collection of accessories that would go perfectly well with the dress you select. We weren't really a fan of their bottom-wear but you might get a few surprises if you spend a little time going through their range.
U-Turn
Once you step in at this store in Rajouri Garden market, you'll find a good variety of casual tops, party-wear tops, dresses and a lot more. If you are someone who is looking for bodycon dresses, crop tops, you now know where to head to then.
Britney Haute Couture
We suggest that this is a place to go to if you are looking for a perfect outfit for your freshers or after-party while shopping in Rajouri Garden market. From sequinned dresses to jumpsuits, trust us, you won't come out disappointed.
Tiska
This store in Rajouri Garden market is for all you denim lovers. At Tiska, we found great denim dresses, boyfriend jeans (even girlfriend jeans), denim shorts, skirts, and sleeveless jackets (we had a major crush on these). Although, you will also find more basic stuff, denim is certainly the winner here.
Rangoli
We had actually thought that we might find a lot of ethnic-wear here but surprisingly, we found a lot of western-wear. Majorly, you'll find a lot of tops here and not a lot of bottom-wear (which we think it's okay considering there are lot many other options in Rajouri). The best part is, their tops are super-trendy and the quality is even better.
RPM Fashions
Do you like celebrities' airport looks? Well, if you also want to sport something similar, we've found a shop for you. RPM fashions has so much to offer that it might leave you amazed. From peplum tops to flared jeans, you'll be bombarded with options here at this store in Rajouri garden market.
Serenity
If someone asks us to describe Serenity in one word, we'd say 'cute'! Why? Because this tiny shop had a lot of cute apparel that was too hard to miss out (think candyfloss coloured ruffled top, doughnut printed skirt). Also, they have a sale going on so, grab the best apparel before it's too late.
Chocolate
Located on the same lane as Serenity, the collection at Chocolate is worth checking out. Apart from the tops and dresses, what we loved here was the collection of blazers they had. From solid-coloured ones to striped-ones, do not miss this store if you are in Rajouri.
Maira
If you are someone who loves to play around with a lot of prints, Maira should be on your check list. From tops, trousers, jumpsuits, to dresses; drop by Maira for some awesome apparel. They even have a good collection of formal wear so, go shop RN!
2358 India
If you thought, you were done with Miniso and Mumuso, we are here to give you a surprise! Guess what? You are not done yet! 2358 is a Korean brand that is based out of Rajouri Garden and the stuff it has is pretty much similar to what Miniso and Mumuso have (though, we thought it was relatively cheaper!). The place is quite well stocked up with summer footwear which includes colourful flip-flops. We even tried on a pair and it was impressive! Also, just in case, you are looking to shop for scarves, this could be the place. We suggest, go RN!
Their price for flip-flops starts from INR 249.

Comments