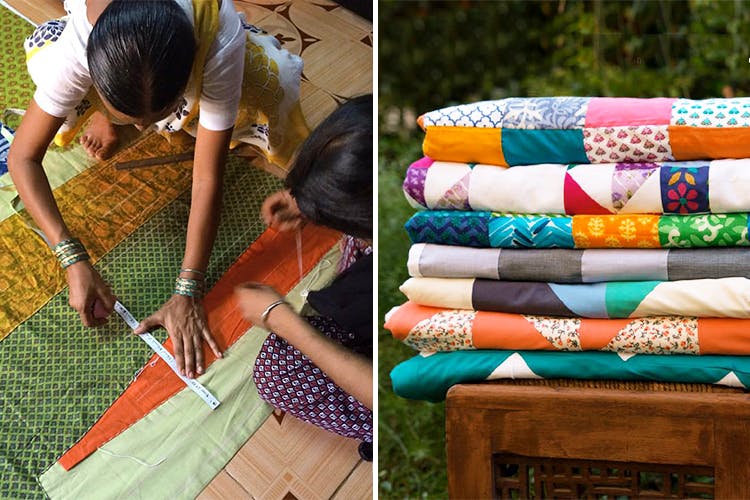 Old Saris Just Lying Around? These Women Will Turn Them Into Beautiful Blankets
Shortcut
We all have saris we don't have the heart to part with. But what if there was a way to turn them into something of value? Check out The Initiative—a Mumbai-based brand that employs a team of women who make special sari Godhadis (Maharashtrian blankets).
What Makes It Awesome
The women at The Initiative refurbish old sarees and cloth swathes piece by piece, and stitch them by hand by layering them. Think of it like making biryani, actually. Layer over layer of good ol' sarees, combined over days to ensure they're making it just as warm as you want them to be.
A lot of unused scrap fabric finds its way into these blankies, and while you're free to state your colour and pattern preferences, a lot will depend on what the good peeps at The Initiative can source. You can also decide how thick or big your saree blanket should be. Not only that; you can also have messages, dates, illustrations and names embroidered on it (how sweet is that?!).
All the cleanliness freaks and hygiene nazis can breathe easy. The Initiative re-purposes only brand new material, and, before they deliver these sari blankets to your doorstep, gets them all prepped and laundered at Pressto.
If you have more questions about how, where, cost, size or anything at all, check the website.
What Could Be Better
The only bummer here is that it'll take about four weeks for an order to complete. But at the end of the day, you know that the process will be worth it. The quilt is all handmade and it will be lovingly made with saris that carry memories and deserve to be passed as well-worn heirlooms.
Pro Tip
Still not sure if you want to reuse those saris? You can email them for more clarity. Or choose from their selection of readymade of quilts, laptop sleeves, tote bags, utility rolls and organiser books, all inspired by Godhadi blankets.

If you're not in Mumbai, courier charges will apply as well.

Comments