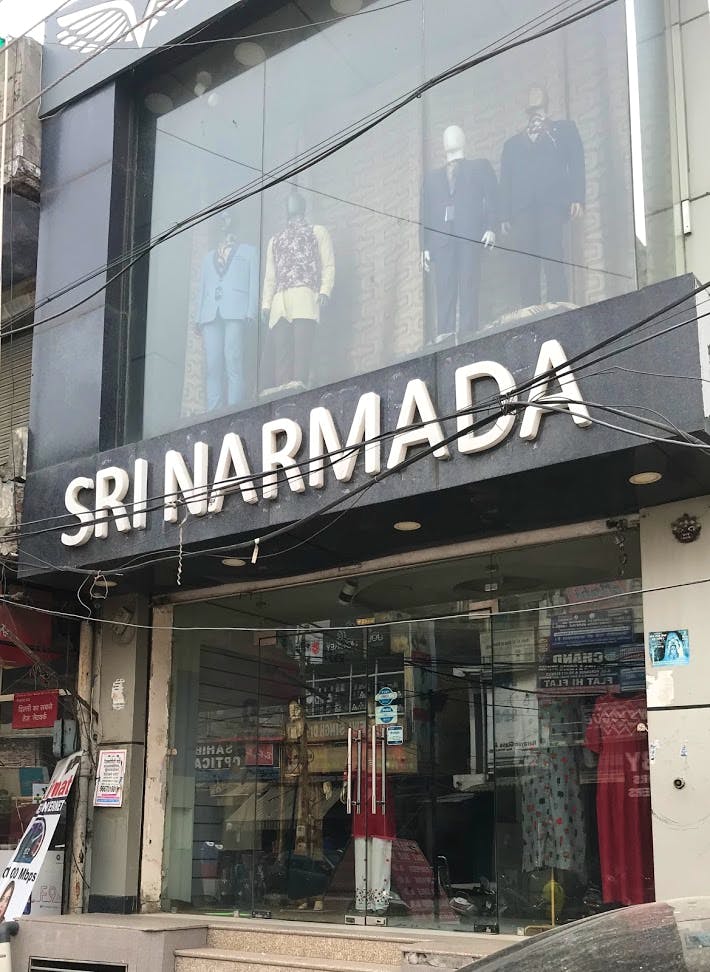 Ladies, Shopping In NIT-5, Faridabad? Here's A Guide That'll Come In Handy
NIT-5 is a super popular neighbourhood market in Faridabad where you'll find all kinds of ethnic and western wear for women. We have combed through the market and compiled a list of all the stores that we really liked out there. So, get reading, and shopping, eventually.
Lakshika
Located among the stores that sell freshly-ground wheat, this two-storeyed store has an excellent collection of ethnic wear. From suits, saris to embroidered stoles, you'll find some great occasion wear pieces at Lakshika. They don't stock a lot of subtle options, though.
Prices at Lakshika start at INR 799.
Radhika Fabric And Boutique
We found some really cool, printed cotton fabrics at Radhika Fabric And Boutique. The designs are trendy (polka dots, neons, colour-blocked and more) and they can also stitch up suit-sets for you. While we can't vouch for the quality of their stitching, the readymade pieces they had on display were well-made.
Prices at Radhika Fabric And Boutique start at INR 40/metre.
Jazz Store N Boutique
If you're looking for basic suit-sets and kurtis, then Jazz Store N Boutique is a store that you should definitely check out. They have stuff in cotton, georgette and crepe, and some really interesting combinations.
Prices at Jazz Store N Boutique start at INR 399.
Simran Boutique
Tucked away in an alleyway, this easy-to-miss boutique had us drooling with its sublime collection of ethnic and western wear. All the pieces at Simran Boutique are designer and if exclusivity is on your mind, then this is a store you can't afford to miss out on.
Prices at Simran Boutique start at INR 1099.
Anjali Designer Studio
Anjali Designer Studio is a great place to check out if you're looking for trendy, haute couture drapes and silhouettes. They also have a ton of fabrics (cotton, georgette, crepe, raw silk, linen and more) for you to choose from.
Since it is made to order, the prices at Anjali Designer Studio are pretty varied.

Shradha's Fashion Hub
Shradha's Fashion Hub is another store in the market that retails readymade kurtis, leggings and suit-sets. They also stock a basic range of dresses and frocks.
Prices at Shradha's Fashion Hub start at INR 399.
Sri Narmada
Sri Narmada is a family wear store that stocks a beautiful range of kurtas, palazzos, tops, dresses and gowns for women. All of their stuff is branded and they keep updating the collection regularly in line with the latest trends.
Prices at Sri Narmada start at INR 599.
Sonu Emporium
Probably the biggest apparel stores in the market, Sonu Emporium has a huge collection of ethnic and western wear for women and has brands like Vibe, W, Lee and more on offer. You'll find everything from tees, shirts, denims to lehengas and Indo-western wear at this store.
Prices at Sonu Emporium start at INR 599.
She Fashion
This super small store is another option for western wear (crop-tops, dresses, skirts, shorts, denims) of the kind that isn't very long-lasting, but extremely good value for money.
Prices at She Fashion start at INR 349.
Prem Dupatta Emporium
Aren't dupattas a really happy piece of clothing? We certainly think so and hence, our love for Prem Dupatta Emporium is immense. This was easily the most colourful store in the market and the soft, flowy georgette, crepe and silk dupattas gave us major Bollywood feels. They sell dress material, as well.
Prices at Prem Dupatta Emporium start at INR 299.
My Choice
A magnificent collection of suits, saris and lehengas await you at the My Choice store. Most of the pieces at this store have heavy embroidery and they're also running a sale of upto 50% off currently.
Prices at My Choice start at INR 900.
Sakshi Creation
You'll be amazed by how big this ethnic wear store is on the inside. Sakshi Creation has some really unique saris and lehengas on offer and we recommend checking it out for your bridal wear needs.
Prices at Sakshi Creation start at INR 1000.
Madhav Creation
Madhav Creation is another store you can check out for your suit, sari and lehenga needs. We especially recommend checking out their range of georgette saris which come in a lot of colours and look absolutely stunning.
Prices at Madhav Creation start at INR 899.
Singh Gallery
While Singh Gallery is primarily a cosmetics store, you can also find some pretty cool comfort clothing pieces at this store. We recommend checking out their comfortable pyjamas, tees and night suits.
Prices at Singh Gallery start at INR 349.
Myra Creations
Does renting a lehenga sound like a good idea to you? Then Myra Creations should be on your radar. They have an extensive collection of lehengas that you can rent for a limited period of time and the rates differ according to the lehenga that you want. You can also hit them up for jewellery rentals.
Kolor's Print
One of the more expensive stores in the market, Kolor's Print will wow you with its sari and lehenga collection. We loved the beautiful goldwork that their pieces have and also the attention with which they listen to customer demands.
Prices at Kolor's Print start at INR 1699.
Arora Garments
Arora Garments has an amazing collection of western wear for the whole family. We recommend hitting them up for ruffled tops, cute shorts and colourful dresses.
Prices at Arora Garments start at INR 499.
Laxmi Cloth Emporium
Situated in a small residential street beside the market, Laxmi Cloth Emporium stocks cotton, silk, linen, georgette and rayon fabrics for suit-sets and kurtis. The collection is super impressive and you can also pick up fabrics for bed sheets, pillows, cushions, table cloths and towels at this store.
Prices at Laxmi Cloth Emporium start at INR 50/metre.
Comments