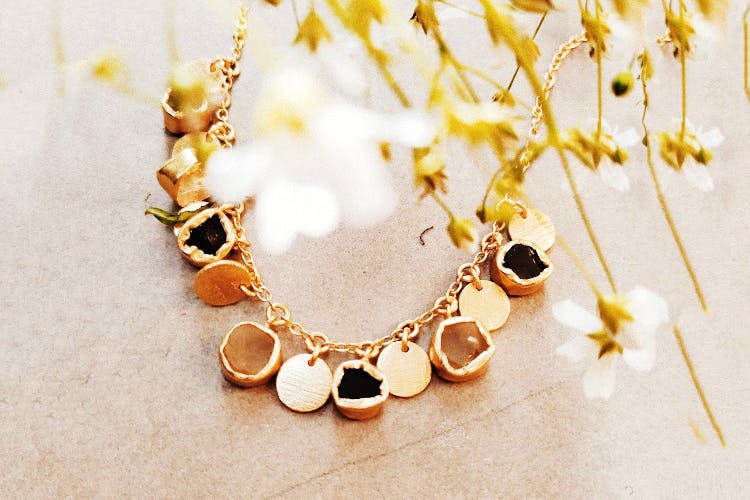 Wedding, Night Out Or Workday, Sort Out Your Looks With Our Jewellery Guide!
Believe jewellery is the best part of your outfit? Well, we know how important it is to light up an outfit and ensure that it perfectly matches too! So when we laid our eyes on the fabulous collection that Zariin has, we just couldn't help but add some of their pieces to our collection (including a wishlist of course). Read on to know my favourite picks mapped across various occasions we'd love to wear them to.
Got A Girls Night Out?
Chic and experimentative in design with precious Green Amethyst embedded, this collection is perfect for when you have a fancy dinner planned with your girlfriends. It'll instantly add that extra oomph to your little black dress or jeans-and-a-shirt combo, especially when you're not in the mood for a run-of-the-mill style.
Counting Mimosas Tonight?
Whether it be a reception or an elegant cocktail party by the company, you know you've got to make a statement. This Muted Moods Medallion Necklace and the gorgeous pair of chaand baalis, from the Zariin X Swarovski Confluence collection, made with 22kt gold plated earrings with Swarvoski crystals and pearls promises to instantly liven up your outfit. It's a must-have in your jewellery wardrobe for its dramatic and powerful style.
BFF Tying The Knot?
When the bestie's getting married, it's your time to shine too! Without stealing her thunder, you'll still want the spotlight on you and Zariin's collection of Indus Roots and Pearl Kissed Redux jewellery will make your heart go bonkers. They've got nose rings, chokers, maang teeka, earrings, bracelets and bangles are glamorous with filigree detailing and 22kt gold plating with citrine, topaz, turquoise and pearl beads.
Let There Be Brunch
A heartwarming brunch feast with bae or fam translates to an endless supply of photo opportunities. Even if you're feeling lazy on a weekend, all you've got to do it put on one of these Gold Blooms collection pieces for a stunning look! It's sophisticated yet classy and so versatile in its gold tones. Hoops, studs, earrings or necklaces, you'll want to stock them all!
Nine-To-Dine Glam
When your style wants to speak crisp and polished like at office meetings, the Day & Night collection has to be your pick. These 22kt gold plated pieces are studded with edgy howlite and black onyx for a smart, bold and minimal look. Pair them with a sharp suit or a structured dress for maximum impact.
#LBBTip: They've got a pop-up happening at Select CITYWALK everyday from 1st March to 31st March, showcasing their newest collection, Classic Lite. Don't forget to use the discount code lbbxz to get 10% off!
So, We're Saying…
Zariin's got us totally hooked to their exuberant collection that's perfect to celebrate any moment in life - usual or incidental! Put on their unique, artisanal pieces and you'll find people asking where you got them from.
Ask Shruti a question