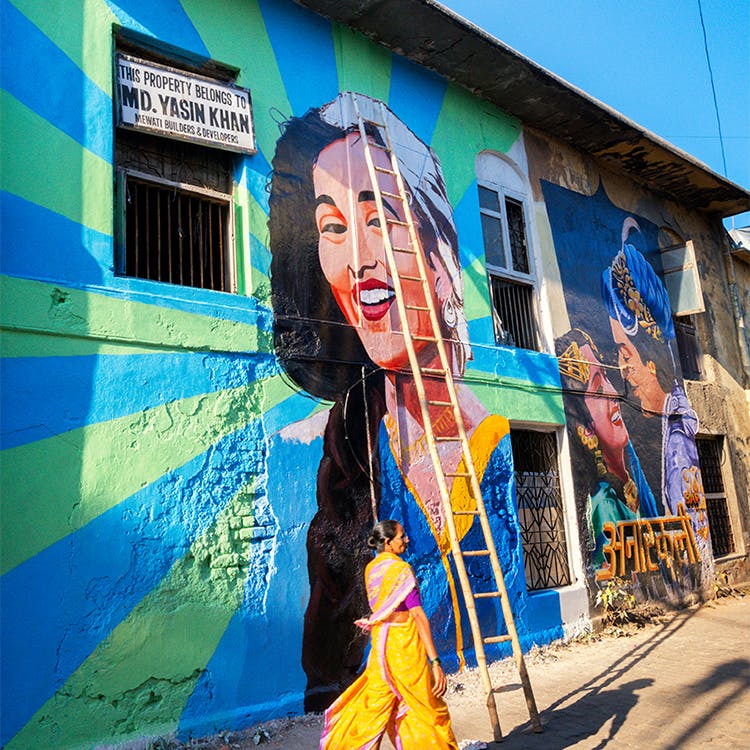 Picture Perfect: Eight Larger-Than-Life Bollywood Murals In Mumbai You've Gotta See
Mumbai has made Bollywood, but in many ways, Bollywood makes up Mumbai too. To celebrate this, graphic designer and artist Ranjit Dahiya started the Bollywood Art Project where using the truck-art style of painting with enamel paints, he started single-handedly creating wall murals of iconic actors such as Dev Anand, Madhubala, Amitabh Bacchan, and even the character Mogambo. We spoke with the artist, and have compiled the list of where you can find each such glimpse of Bollywood in Bombay, and the script that made it. Roll opening credits.
Anarkali
This mural of Anarkali and her lover marked the beginning of the Bollywood Art Project. In April 2012, when Ranjit Singh wished to infuse the city of Bollywood with more Bollywood, he walked down Chapel Road and knocked on a stranger's door. His request was certainly unfamiliar, if not strange – he wanted to borrow her wall. A catholic lady, she gave him her permission to lighten up the outside of her house with a character she didn't know, from a cinema she didn't watch. The very evening he got her 'yes', he began preparing the 23-feet-high wall at night, and ever since, this painting of Anarkali stands there.
How to get there: This is located near Duke's restaurant, in front of Narona store on Chapel Road, Bandra
Amitabh Bachchan
If you ever find yourself in Bandra, taking a stroll down Pereira road will get you face to face with none other than the angry young man. On a horizontally strong deevar lies a painted Amitabh Bachchan with all his mirth, waiting for Peter to come and fight him.
As the tale goes, soon after the artist tweeted the process of the painting to Amitabh Bachchan, he found a photographer near his canvas, clicking and shuttering. On being asked from where he hailed, he simply said, 'From the bungalow.' That, for a star like him is probably explanation enough.
How to get there: Start from Mehboob Studio and walk towards Bandstand in Bandra. On the left hand side is a bungalow with the wall mural painted on it.
Rajesh Khanna
In 2012, seven days after Amitabh Bachchan's painting was completed, the news of Rajesh Khanna's demise floated to Ranjit Dahiya's ears, leaving him with a heavy heart. He wanted to encapsulate his essence on a wall where people could still see their favourite superstar every day but didn't have the money to paint it.
A kind friend lent him some, and thus the work began. People count it as one of his best works, as it often leaves one feeling as though the legend is gently looking straight at you. The still has been taken from Rajesh Khanna's film, Andaaz.
How to get there: This is adjacent to the mural of Amitabh Bachchan on Pereira Road, Ranwar Village, Bandra (West)
Dadasaheb Phalke
Everyone notices this big yellow building with Dadasaheb Phalke painted as soon as their cab enters Bandra, but few know that it was undertaken by the Bollywood Art Project in collaboration with the St+art Project from Delhi. The 126 feet high and 159 feet wide MTNL building was a challenge most did not care to accept. The broken, windowed surface did not help matters either.
Ranjit took up the task, and within 10 days along with three assisting artists painted the face of the father of Indian Cinema for the city to see, wonder and remember.
How to get there: MTNL Building, Bandra Reclamation, Bandra
Nawazuddin Siddiqi
One of the few which depict a contemporary biopic, this is a wall mural based on the movie, Manjhi – The Mountain Man. The cast of characters include Nawazuddin Siddiqi and Radhika Apte, and the story is based on a true story of a man from Bihar who breaks through a dangerous mountain with a chisel and hammer.
How to get there: Right in front of the restaurant Imbiss, on Waroda road, off Hill Road, Bandra (West)
Amrish Puri
As the artists rightly says, Bollywood is as much made of its villains, as it is of its heroes. He painted the anti-Mr. India, Mogambo on this 20X20 feet wall, catching one of Bollywood's most missed antagonists, Amrish Puri, right in the middle of his most epic dialogues. Mogambo khush hua. And you?
How to get there: Behind HIVE, Gulab Nagar Society, Khar Danda
Madhubala As Herself
When the wish to paint Madhubala came on, the artist's feet led him to the same house where the inception of the Bollywood Art Project started, Anarkali.
This painting of one of Bollywood's lady heartthrob stands 25 feet tall, and till date the owner of the house keeps her curtained open, so that she can see the visitors to stop by for a picture. Though the relevance of Madhubala from this picture Barsaat ki Raat matters little to her, she loves it for the colour it adds to the neighbourhood and to her home.
How to get there: This is located near Duke's restaurant, in front of Narona store on Chapel Road, Bandra.
Dev Anand
The wall mural of Dev Anand came as a request from a fan. This still of the builder of Bollywood, as Ranjit says, was taken from his movie Taxi Driver.
How to get there: NM Design Studio, 17 Boran Road, the lane in front of Elco Arcafe, Hill Road, Bandra (West).
Comments