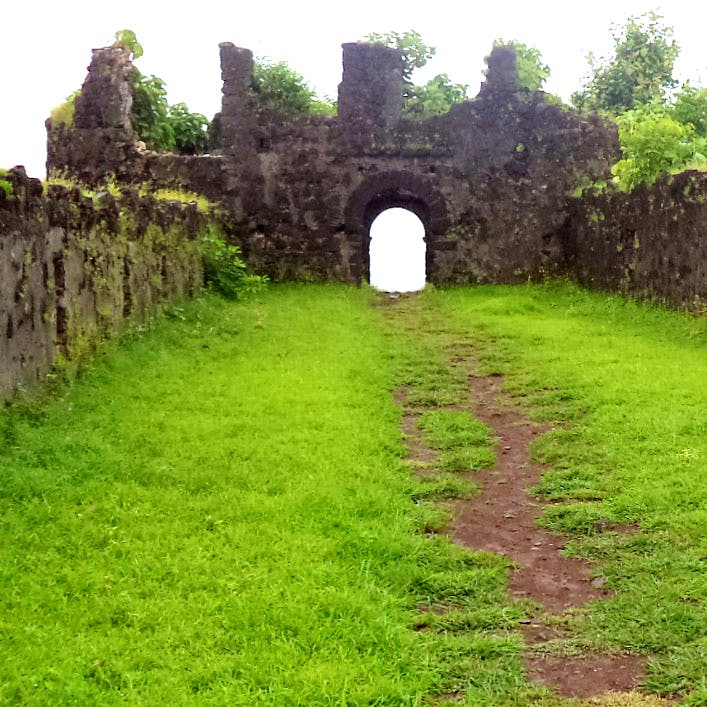 Beach Hopping, Road Trips, And Forest Trails: Here's What To Do In And Around Alibaug
Alibaug is a beautiful beach town that offers a relaxing, tranquil break from city life. Clean beaches, road trips on winding roads, super delicious sea food preparations, beautiful sunsets, forts, green cover and a refreshing sea breeze make this the ideal long weekend getaway from Mumbai. For those who're in the mood for a beach vacation (which is NOT Goa) here's a fun plan!

Stay In Comfortable Luxury
Cottages by the beach, sea-facing bungalows, farm-houses or resorts with private beaches, there is something for everyone here. Alibaug gives you the chance to enjoy the luxury of a beach vacation minus the hustle of Goa, and relaxing to the sounds and views of the sea and abundant greenery is one of the best experiences that make the stay in Alibaug this memorable.
We recommend Outpost if you're looking for a boutique stay in Alibaug. Surrounded by nature, this resort is luxury in peaceful surroundings. Read more about it here.
Paradise Resort, Radisson Blue, U Tropicana, Bohemyan Blue and Dewdrop Retreat are some of the other popular places to stay at.
Enjoy Yoga On The Beach
Nothing like a good workout as the town wakes up to the chirping of birds, the cry of the seagulls, and the crashing of the waves. The air is clean and fresh, and Alibaug beach is a lovely stretch of fine, clean sand, and Surya Namaskars and meditation are the ideal way to kickstart the lovely day that lies ahead! While the beach gets crowded later in the day, early mornings are tranquil enough to enjoy a yoga session here.
Take a Boat Trip To The Murud Janjira Fort
53 km from Alibaug lies a beautiful fort in the middle of the Arabian Sea. Approachable by boat, this is one of the strongest marine forts of India, and frequently visited by tourists. You can spend half a day here exploring the towers and turrets and secret passages. Ideal for history buffs, this makes for a great half-day trip from Alibaug.
Go Beach Hopping
Nagaon Beach, Kashid Beach, Varsoli Beach, Akshi Beach, Mandwa Beach, Murud Beach, Kondivli Beach, Kelshi Beach, Velas Beach or Kihim Beach- take your pick from the many beaches that line this beautiful Konkan coast around Alibaug. This way you can also indulge in some road tripping! Don't forget to stop for chai and spicy misal pav at the street-side stalls.
Take A Road Trip To Korlai Fort & Lighthouse
22 km from Alibaug, this fort is a Portuguese fort that is one of the most popular sightseeing spots in the region. This fort was built in 1521 AD, and is divided into 3 enclosures that contain a church, ruins and a water cistern. The lighthouse here too is worth a visit.
#LBBTip- the trek up to Korlai Fort from the village is on a rugged terrain, so don't forget to wear comfortable shoes and clothes.

Go Parasailing
The popular beaches here provide entertainment options in the form of water sports, and a whole lot of para sailing! Alibaug and Kashid beaches provide the best para sailing experience in the region.
Enjoy A Forest Trail In Kanakeshwar Forest
If you love the wild, a walk through this forest is a MUST DO activity in Alibaug! The forest is gorgeous; green, dense and rich with flora and fauna. If you're feeling particularly adventurous, you can wander deep in to spot the wildlife too (we hear that snakes and boars are spotted pretty often).
Visit Brahma Kund
20 km from Alibaug, this is a religious spot that is frequented by tourists who love history and culture and of course, Indian mythology. The kund or water tank is surrounded on all four sides by steps that lead down to the water. You'll also find a Maruti Mandir and a statue of Mirchi Baba here.
Savour Delicious Seafood
No trip to Alibaug is complete without indulging in the most authentic seafood preparations. There are a lot of options to choose from, but if you're overwhelmed or simply confused, a fish thali is always a good idea! Sanman, Suruchi, Bohemyan Blue, and Saffron, are some of the popular restaurants in Alibaug that you can head to for a tasty meal.
Well, we can't wait to plan our next Alibaug getaway. What about you?
Ask Protima a question