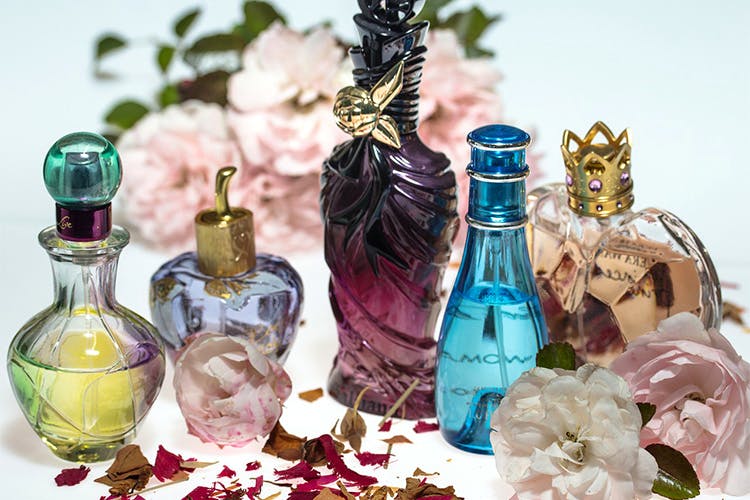 Long Lasting Perfumes Under INR 1,500 To Attract Good Vibes Only
Ain't nothing like a great scent, to make you feel like you've got this. Like you can ace your work day/interview/date, you know? Perfumes, though, are usually SO pricey. Bigger brands can have you loosening your purse strings a lot more than you'd like, so we've compiled a list of perfumes under INR 1,500 which smell great, and last super long. Read on!
Kistna Eau De Toilette (men) & Fuji Green Tea (women), The Body Shop
Kistna Eau De Toilette for men combines fresh citrus top notes of grapefruit and lemon with a herbal heart and base notes of cedarwood and vanilla. OMG, it smells so tasty (yes, you read that right)!
Price: INR 1,445
The Fuji Green Tea Eau De Cologne is a blend of green tea, bergamot, lemon and mandarin with floral notes of camellia, jasmine and violet. The best bit? It's light and refreshing, perfect for Mumbai's weather.
Price: INR 1,195
If you are willing to shell out a bit more, we highly recommend the White Musk and Black Musk perfume collection. The last long and will have you smelling like a dream!
Natio Fresh Eau De Toilette
A hint of soft aromatic black pepper, with citrus top notes is characteristic of this perfume. The woody base notes give you a fresh, and earthy aroma.
The brand, originally Australian, is well-known for its vegan beauty products and great range of perfumes for men.
Price: INR 1,220

United Colors of Benetton: Dreams Be Strong Perfume (For Men)
This particular scent by UCB is a fine blend of citrus, wood notes, white floral blends for the perfect gentleman. So fresh, so right for everyday wear! The other scents are very wearable, too. The bottles are very travel-friendly too.
Price: INR 1,499
Zara Eau De Toilettes
Zara surprisingly has a great range of perfumes for both men and women, with the range as low as INR 700 for certain fragrances. It doesn't go above INR 1,200, actually, and they've got lovely roll-ons that fit right into your handbag/packpack. Bonus? There are several dupes for high-end perfumes.
Price: INR 790 – INR 1,400
MiniSo
MiniSo sorts most of us out for a lot of things we need, and things we didn't know we needed. Perfumes are amongst them. If you want to save your coins and your expensive scents for special occasions, MiniSo's perfumes are very pocket-friendly, and the bottles are small enough to throw into your bag, too! Our favourites are Green Tea and Eternal Faith.
Price: INR 350 onwards
Comments