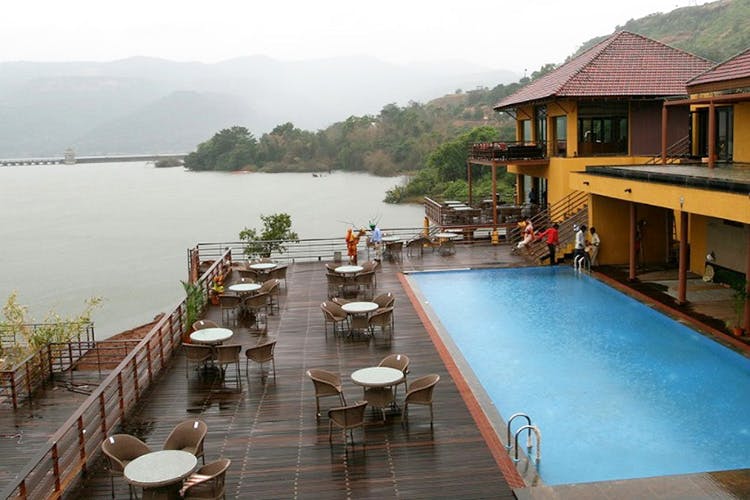 Pack Your Bags For Lavasa: Here's All You Can Do There
Just about two hours drive from Pune, Lavasa is only 30 kms away from Pune and perhaps one of the most sought-after one-day getaways for many. And why wouldn't it be? Lavasa enjoys year-round pleasant weather with loads of options in entertainment, sports, events and games.
It's best to drive there by the Temghar-Lavasa Road, on the way make a pit-stop at the viewing point and look down at Lavasa. It's a gorgeous view. Make note that there is a parking fee in Lavasa. The city charges INR 500 for a four-wheeler and INR 200 for a two-wheeler.
So we have charted out a well-planned itinerary for a trip to Lavasa.
Eat Breakfast At The All American Diner
You would want a king-sized breakfast to kick-start your day when you're taking a break from the city, right? We recommend The All American Diner at The Waterfront Shaw. With its red leather seating arrangements and chessboard flooring, the restaurant, in its own way does justice to the concept of a traditional American diner.
Coming to the food menu, we highly recommend you try their bogart. It's absolutely heavenly and will fill your stomach sufficiently. The dish is made of a folded omelette with chicken ham, cheese, onion, tomatoes, green pepper and served with a side of tomato salsa. If you are still hungry, try their baked hash and corn.
A meal for two here will set you back INR 800. The diner is open from 7:30 a.m. to 10:45 p.m. It also has a full bar, outdoor seating and live sports screenings.
Play Golf At Indoor Golf Recreational & Learning Center
Go for a game of golf at Lavasa's Indoor Golf Recreational & Learning Center. The indoor pitch and the putt golf facility is one of the best in India. Choose to either play a basic game for an hour for INR 500 or the virtual golf simulator for two hours for INR 1,000.
Looking for an adrenaline rush? Head to Lakeshore Watersports to enjoy a thrilling game of water volleyball or pontoons and bumper boat rides on the lake or jet skiing through the water body. Alternatively, you can also head to X-Thrill Adventure at Palase if you're up for trying adventure sports like crossing the Burma bridge, rappelling, archery, zip line and even a jungle trek! Also, don't miss experiencing the super fun segway ride in Lavasa for INR 1,500.
Get A Massage At Dasvino Town & Country Club
After hours of adventure sports, it's pretty natural for fatigue to take over. Head to the Karvi Spa at Dasvino Town and Country Club to unwind. Indulge in Karvi's signature therapies like the reflexology session, floral bath, chocolate body mask and the sauna steam and jacuzzi. Weekends can get extremely crowded at Karvi. Make sure you have a prior appointment.
Light Lunch At Happy Sandwich
If you're one to love grab-and-go food when on a getaway, head to this tiny eatery, Happy Sandwich. With plastic chairs and a few tables, this eatery will take you back to your college days with its menu. Grab sandwiches with panner, capsicum, corn and cheese stuffings with multiple variations. They also have whole wheat thin-crust pizzas that have a homely taste with all vegetarian toppings. You can also grab a veg or paneer burger, wraps and frankies, loaded nachos and cheese fries. And, the space also serves waffles.
A meal for two here will set you back INR 400 only, so your lunch on a budget can help you spend big on dinner.
Go On A Walk Around Lavasa
Evenings are pleasant at Lavasa. Go on a walk along the serene Warasgaon Lake, surrounded by lush greenery. The place is quiet, refreshing and houses rare species of birds and flowers! While you are there, don't forget to carry your camera and flood your gallery with beautiful sunset pictures.
Visit Bamboosa Factory
End your one-day trip by visiting the renowned Bamboosa factory at Mugaon. You can see the craftsmen at work, doing what they do the best! You can also buy classy bamboo artefacts from here. We particularly loved the bamboo warli art clock, a small bullock cart showpiece for a work desk and their elegant pen holders.
Bonus: Fuel Up!
If you're in Lavasa and out of fuel for your vehicle. Head out, a little after the bridge into Bohini village taluka and make a stop at the HP Petrol Pump. You can fill up your tank here before you head back.
Comments