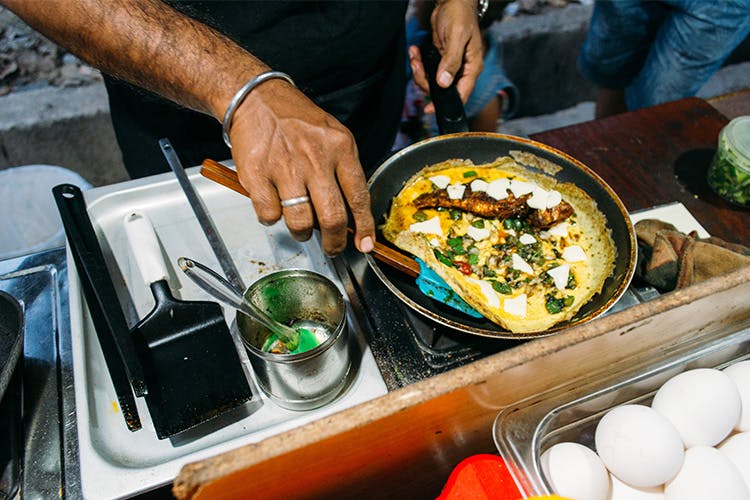 10 Things Even A Hardcore Bangalorean Probably Doesn't Know About
You may be a True Blue Bangalorean, and we're not doubting that. But perhaps like us, even you missed out on a few things that fit the bill of being hidden gems. When we went out trying to rediscover the city, we chanced upon a few restaurants, services and stores, that we'd never heard about. EVER! So naturally, we've done the work of curating our top picks of secret stuff you didn't know about. Thank us later!
Eat The Best Tofu At This Tao Monastery
You didn't even know there was a Tao Buddhist Monastery in the city, did you? But the Hong Chi Monastery in Austin Town should be on your must-visit list. An oasis of peace where you can spend an hour or two meditating, it welcomes people to just sit and take in the calm of the space. Or head there to stock up on melt in the mouth, silky tofu, that you will never find on supermarket shelves.
Read more about it here.
Get Your Feet A Chiropodic Therapy
This service will guarantee you happy feet. No, really. We tried it out, and it was like we were walking on clouds for a while after that (until we met the deathtraps pavements!). Started in 1986 by chiropodist Mahboob Shariff, the clinic specialises in the treatment of foot-related problems, including everything from calluses and corns to verucca as well as orthopaedic problems. But don't go expecting a fancy Balinese foot massage, you won't get it here. You will, however, get great feet!
Check out our experience here.
Want Goat Brains In Your Omelette?
We know a guy. And he's pretty cool too! Forget your fancy eggs to order, he will fix you up with the most delicious combinations like red snapper or crab omelette. Our favourite though is the lamb brain stuffed omelette. He also has more regular stuff like pepper chicken, mushroom and cheese or baby corn versions.
Check it out here.
Eat Biryani In A Wrestling Pit
We are not even joking. You can wrestle your way into this century-old akhara (that is a wrestling pit) in Shivaji Nagar, and load up on some biryani and practically perfect shami kebab. The mutton biryani comes with chunks of tender meat cooked with sticky, short-grained rice. Don't expect anything fancy, it's not. In fact, it is the opposite. But it is something you shouldn't miss out on.
Read more about it here.
Hot Air Balloon Over Bangalore
Ideal for anyone looking for some adventure, this hot air balloon ride is a great option. So if you've been hunting for ways to liven up the weekend, then book yourself a slot at this adventurous zone. Sure it's a tethered ride, but hey, we'll take what we get. We've passed the location on the way to the airport, and while it's no Switzerland, it's a gorgeous view of a lesser crowded Bangalore. Also, it's a fine place up in the air for photographs.
Read how to get high here.
Rent Out This Mansion To Unwind Or Party
Jade 735 is a slice of Greece in Bangalore. Santorini, to be more precise, as it's done up in beautiful hues of blue. Centred around a swimming pool, you can choose to stay the night as well, in one of five themed rooms. We love the one which has a swing for a bed, or the one with an open-air Jacuzzi.
Read more about it here.
The Year-Round Book Fair In Koramangala
It's no Blossom, but it is a lovely space to get lost in. From travel, living and spiritual books to crime thrillers, best-sellers and comic books, you'll have at least one new book to read every day of the year, once you go shopping at this place. Prices at around INR 100 as most of the books are pre-loved, so imagine setting up your home library with tomes that cheap! OK, we're already on our way there. Bye!
Read more about reading these books here.
The Dog Park In Domlur
Sure there's one in Cubbon Park, but this dog park is only for doggies. Spread over 2000sqft of open space, there are three tire tunnels for dogs, a kennel, a separate loo, and a poop pit, that has been meticulously planned by the residents, and very obviously, dog lovers. So go on, take your doggos and let them have their time in the sun.
Read more about the cutesy park here.
You Can Learn How To Scuba Dive In Bangalore
Stop rolling your eyes. You really can learn how to scuba dive without even leaving the city. We found two spots, Planet Scuba and Dive India, where you can get your PADI diving license in the comfort of a swimming pool. Once you're comfortable in the pool, then travel across the globe and dive into all the oceans and seas you can find!
Comments