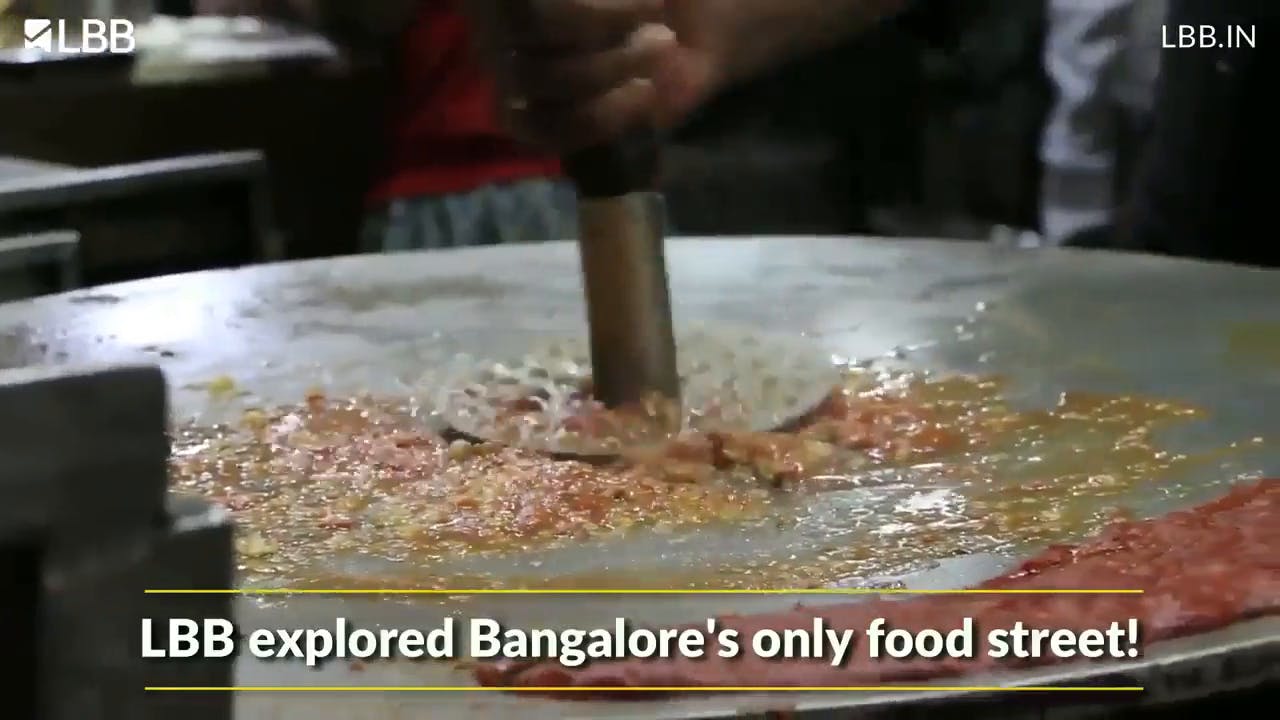 Fire Paan, Twister Potatoes And Floating Pani Puri: Here's What You Need At VV Puram, Bangalore's Food Street
Whether you recently moved to Bangalore or have been around for a while, chances are you might have heard about VV Puram. Also known as Food Street, Thindi Beedi, and Chaat Street, VV Puram is Bangalore's only food street that serves everything vegetarian. It's one of the must do things in Bangalore. The street starts bustling with restaurants, kiosks, carts, and small hole-in-the-wall shops around 5 pm and by 8 pm (especially on weekends), you'll find a large crowd eating their way through everything imaginable. We did it ourselves, and here's what we recommend that you eat at VV Puram.
Sweet Buns
It's a sort of tradition that you begin with munching on VB Bakery's sweet buns and congress buns. These soft as a pillow buns are some of the best ones we've had and you can easily down at least three in a go. Since these buns are made fresh every day, we recommend you pack some for home too.
Gobi Manchurian Roll
Once you have had your fill on the buns, you will enter the main street where there will be shops on either side calling to you with their offerings. While we can't direct you to any particular store, the Chinese Fast Food Corner serves some insane, greasy Gobi Manchurian Roll. If you are a true blue Bangalorean, then you will know how much we love this Chindian version of Manchurian. The roll's made with roomali roti and it's filling.
Bath Masala Dosa
Dosa shops on VV Puram are far too many with each of them trying to one up the other with their version of everyone's favourite South Indian savoury pancakes. You are going to have to try the crispy bath masala dosa, which comes doused in copious amounts of butter and topped off with lemon rice and potato palya. It's heavy, so you might have to split it with a friend.
Bajjis & Bondas
The true snack of the streets are bajjis, according to us, and there are several hole-in-the-wall stores that serve crispy bajjis of all kinds. Start off with the aloo bondas before ordering a round of dal vadas, chilli bajji, and capsicum bajjis. The capsicum bajji is a favourite of ours because they batter-fry the whole capsicum before being cut into pieces and topped off with chopped onions, coriander, carrots and then sandwiched together.
Rasgulla Chaat
You might think it's an abomination, but the rasgulla chaat is a revelation. Instead of the sweet sugar syrup, rasgullas are dipped sweet curd. The chaat is topped off with chaat powder, chilli powder, boondi, shredded coriander, and some pomegranate seeds and cashews. It's a cold chaat, FYI.
Floating Pani Puri
Floating pani puri was a rage when it launched, simply because people wanted to know what it was. It's still a popular chaat in VV Puram, and basically, it's sukha puris, filled with a pea mix, topped off with boondi and sev, with some peanuts and a whole lot of tangy pani, so that they float.
Twister Potatoes
If potato is bae, then you definitely need to try the Twister (or Twistato) Potatoes. A whole potato is spiralised, then dipped in batter and deep fried to crispy goodness. It's topped off with either chilli, mild or even cheese topping. It's our favourite snack at the whole street.
Pasta
Oh yes, if you thought that Food Street is filled with South Indian fare, then you should check out the Continental fare on offer. You get really saucy and cheese loaded pasta that might not be anywhere near the authentic ones, but hey, it's still brilliant. You even get olives as toppings.
American Corn
On the other end of VV Puram, there's a food cart that serves over 50 kinds of sweet corn. The guy's pretty famous for his creations with the Mango Salsa American Corn our favourite. It's mangoes topped off with sweet corn in a tangy tomato sauce.
Fire Paan
Ideally, once you are done stuffing your face with all the food that we have and haven't even mentioned on this list (think pav bhaji, dabeli, vada pav, holigae, badam milk, and gulkand), you should finish your meal with a fire paan. It makes for a cool video and also, a perfect ending to your visit to VV Puram.
With inputs from Sreepathy Paliath.
Comments