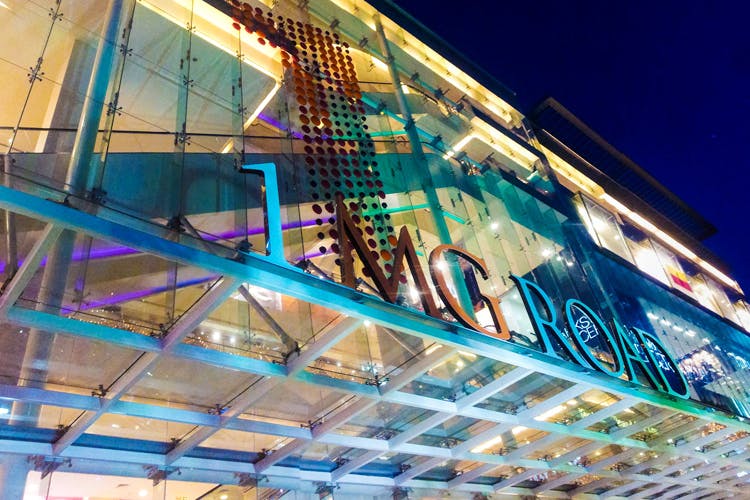 H&M, Marks & Spencer, Hamleys Or Global Desi: This Mall Is Best For High Street Shopping
1 MG Mall is a compact powerhouse of brands that are so much a part of your life that it almost feel like its custom built for you. It caters to absolutely everybody from kids to those who want to decorate their home and also for those who want to look and feel glamorous.

Hamley's
Inspite of this being the smaller store, it manages to fit all the essentials as well as the best sellers. Their staff is very much on top of their game and knows just what to lure you with. A great corner with Lego blocks for kids -- gives you some time alone time to browse. Be it Paw Patrol or Slime, Nerf guns or Bubbles this store has you sorted for gifting options too.
H&M
If affordable fashion is your thing, H&M is the place. Brightly lit and roomy, this well stocked store is easy to navigate through. Deal of the week and 70 per cent discounts is their biggest draw. While it's more compact than the other stores, it got the latest in fashion for men, kids and women alike. Their kids section is definitely the most stylish across town.
Marks & Spencer
Spread across two floors, this is one of the better stocked M&S stores in Bangalore. It houses women's wear and accessories, men's wear, kids wear and also a separate swimwear section. Leggings and linens are their best sellers. Summer has the store looking fresh and cool in hues of coral, yellow and different shades of white. They also offer their signature toiletries, which make for great gifting options.
AND
Soothing and pleasing to look at from the outset, this store on is certainly going to lure women shoppers. Cool, comfortable, yet swish is their mantra. Pastel coloured breezy dresses, floral tops, cool linens and simple, understated accessories to match, this store is your best bet for all brunches and all day wear. They also have a section that offers darker hues with a little bit of shimmer, perfect for night parties.
Global Desi
Housed on the floor above AND, this boho-chic brand is a treat to sore eyes. Bold colours, geometric prints and funky designs welcome you at this store.Well stocked and pleasant and obliging staff ensure that you have a great shopping experience here. Quintessential Indian-themed motifs and prints are their trademark. Fabrics are mainly viscose and cotton so you'll feel comfortable in all seasons.
Hidesign
Vegetable tanned pure leather, artisan crafted solid brass buckles is what Hidesign is all about. In spite of being relatively small, it stocks almost their entire offering from wallets, bags, satchels, to shoes and sun glasses too. Traditional in their outlook, their products come in natural shades of maroon, brown, tan, black and green with a rare mustard or blue. It's a great place to head to for some indulgent shopping.
Aldo
The peppy music, white decor and colourful products are sure to lift your mood as you walk in. Men and women have a wide range of footwear and accessories to choose from. Largely casual in its offering, with wedges, flats and ballerinas, the women also have a few strappy and glittery sandals to try on. Men's casual moccasins and chappals are the hot sellers. Their brightly coloured bags and blingy jewellery is are great to up your style quotient.
Clark's
Want comfortable plus trendy, Clarks is the answer. Stocking men's and women's footwear, this city centre outlet is perfect for a quick swing by visit. It houses the essentials and is rarely over crowded. With enough options to choose from, yet not too many to confuse you, you're sure to find something suitable here. It also stocks shoe accessories like shoe horns, laces, shoe erasers too. Personal favourite is their "Cloudstepper" collection. As the name suggests, they're exceptionally comfortable and very light weight.
Estee Lauder
Premium skincare, makeup and perfume brand exudes luxury and elegance at this boutique. If you're looking for lustrous, glossy lips and subtle make up, this is the place. Skincare experts are available and will gladly help you with the best shades for your skin tone. Their newest addition of advanced night repair comes highly recommended. Their lipsticks are probably the most moisture rich and sure to keep you smiling.
Kama Ayurveda
This delicious smelling store is a treat for those who love to pamper their skin. Purely ayurvedic products in elegant traditional packaging are what you'll find here. Their Kumkumadi Magical Miraculous beauty fluid is sinful. Scrubs, speciality oils and handmade soaps are perfect if you want that glow in your skin all year long.
M.A.C.
Runway ready is what you'll be with one trip to Mac. Funky colours, bold combinations and the best range of foundation shades is what is available. They stock very handy travel sized lipsticks, perfect for the wedding season travels. Smokey eyes, funky eye makeup and an outrageous colour palette is what you'll be able to treat yourself to at this store. The staff are very well trained and knows exactly what to suggest for your skin type.
The Body Shop
In a hurry to grab a present for your BFF, pop into this store and leave relived! From adorable pre-packaged gift packs to, mild and floral smelling perfumes, this store has you covered. Their makeup and toiletries is cruelty free and that makes it all all more enticing. Yummy smelling lip balms and shower gels are hard to resist. Their men's range is great and sure to earn you brownie points on father's day.
Pure Home + Living
Tastefully done with very distinct sections showcasing different colours, this place is definitely going to make to want to re decorate your home. From beautifully crafted tableware and home décor to almost real looking delicate flowers, your house will be insta-ready. Very Zen in it's tonality, hues of coral, gold, purples and greens are what you'll find in the store today. So if you want to up the glamour quotient at home, you know where to head to. They also stock stunning vases, super soft cushions, aromatic candles and unique centre pieces.
Ask Aditi a question