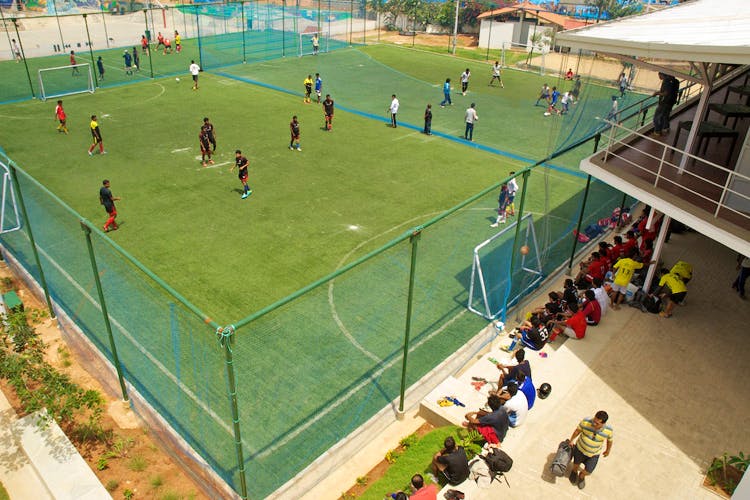 Drive A Mercedes And Play Football: Spend 24 Hours With Your Dad, This Father's Day
Father's Day is just around the corner and is just the right opportunity to show your Dad how special he is. This year, instead of just handing over a wrapped gift, give your dad a day packed with adventure, fun, pampering and food. Here's how you can spend a great Father's Day in the city.
Book A Cool Ride
Kickstart Father's Day by bringing home a luxurious surprise to Dad's doorstep. Give your Dad the chance to unleash the Speedy Gonsalves in him by hiring out a luxury bike from Wicked Ride. From Harleys to KTMs and Ducatis – Wicked Ride's got them! All you need to do is find out what your Dad's dream ride is and get booking. If your Papa prefers four-wheel rides, then, rope in ZoomCar to send over a Merc.
Bike & Car Rental Services
Father Footy
Hop on your thrilling ride and sign up for a game of football at the Soap Football Arena. To make the day even more fun, get your Dad's friends (and their kids) to join in the fun too. If Pops is a serious footballer, then, you can head to these football arenas in town. You can also sign up for climbing, paintball shooting or just go for a run in this Garden City.
Get Suited And Booted
After a quick shower, cart off your Dad to Bassam Apparel Studio on Cunningham Road so that he can get a makeover. Here, the legendary designers and tailors will ensure your Dad looks like a million bucks with their customised suits and formal wear. You can even place an order for a grand sherwani or kurta that Daddy Dearest can rock at the next shaadi.
Eat, Drink And Make Merry
Father's Day is a day of celebration. And what better way to raise a toast to your Dad than to feast and guzzle down a few. If you are looking for someplace special, we point you in the direction of The Permit Room. Dad and you can knock back a few Geists and wolf down plates of Mini Dosa Rolls, Appam & Stew, and Okra Podi Chips. You can also take him to The Park where for INR 999 the two of you can drink unlimited alcohol. Sometimes drinking with the dad needs to be fun, right?
A Sound Pampering
Only the best for the World's Best Father, right? Stumble out of The Permit Room and skip to Truefitt & Hill so that your Dad gets all the pampering he deserves. The luxury salon's clientele list includes names like Frank Sinatra and Oscar Wilde and it's time your Dad joins the elite list. Call them in advance and book up a royal package so that he steps out like Prince Charming.
Team Up To Survive
After all that pampering, it's time to give your grey cells a spruce up too. Whisk away your Dad to Mystery Rooms – a live escape room in Indiranagar. Here, you can bond over a heart-stopping, nail-biting experience of survival.
Dine In Style
Pa and you can munch your way through some of Bangalore's best restaurants such as Monkey Bar, Blue Ginger, and Karavalli. Of course, that also means downing some fine brew. Head to Toit, Arbor or one of these microbreweries in Bangalore and make it a gala time.
A Sweet Note
End the day on a sweet note with a trip to Milano for your favourite gelato. You can reminisce over your childhood and your Dad's childhood between slurps of the best gelatos in town.
Comments