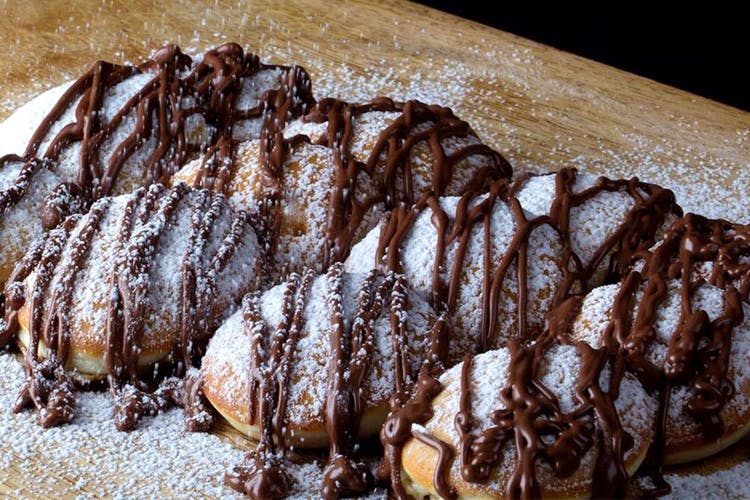 Nearest Metro Station:

Jayanagar
French Or Holland: Koramangala's New Sweet Spot Does 99 Kinds Of Pancakes!
Shortcut
Koramangala's 5th Block got a lot sweeter with 99 Pancakes. The new kid on the block lives up to its name and does 99 kinds of French and Holland-style pancakes.
Holy Crepe!
All your sweet tooth cravings, pancakes cravings, and basically stuffing your face with sugary goodness cravings will all be sorted at 99 Pancakes. And they will be sorted in 99 different flavours of pancakes made in either Holland or French style. If you are wondering what these styles are, Holland are the regular pancakes that you get, round and fluffy, except at 99 Pancakes they serve you mini pancakes. The French style is crepes, sweet and none of them savoury.
There are set flavours and Make Your Own flavours. Set flavours are for anyone who has a hard time choosing what kind of toppings and flavours they want. The Maple Lady, is your regular Dutch pancakes drizzled with maple syrup. Almost breakfast-like. If you like fruits, try the Red Riding Hood that comes with fresh strawberries and whipped cream. Holla Nutella is for anyone who loves Nutella. On to the crepes, the Caramel Banoffee is our pick while we hear the hot seller is Forever Nutella. No guesses as to why that is.
Cravings Unlimited
Most of the 99 flavours come from the Make Your Own Pancake section where you can pick between the two styles of pancakes and then go mad with the toppings. Toppings are of two kinds — regular and premium — with Nutella and fresh seasonal fruits in the premium section while Oreo, chocolate syrup, and sprinkles are part of the regular section. You can even take your custom pancake a notch higher by adding a scoop of ice cream. Our recommendation? It's the Holland Pancakes with Chocolate, chocolate chips, Oreo and Nutella. Do try the Jelloboom, which is basically like a sip-up but with flavoured jello! It's a bit of nostalgia in a tube!
Comments
Nearest Metro Station:

Jayanagar