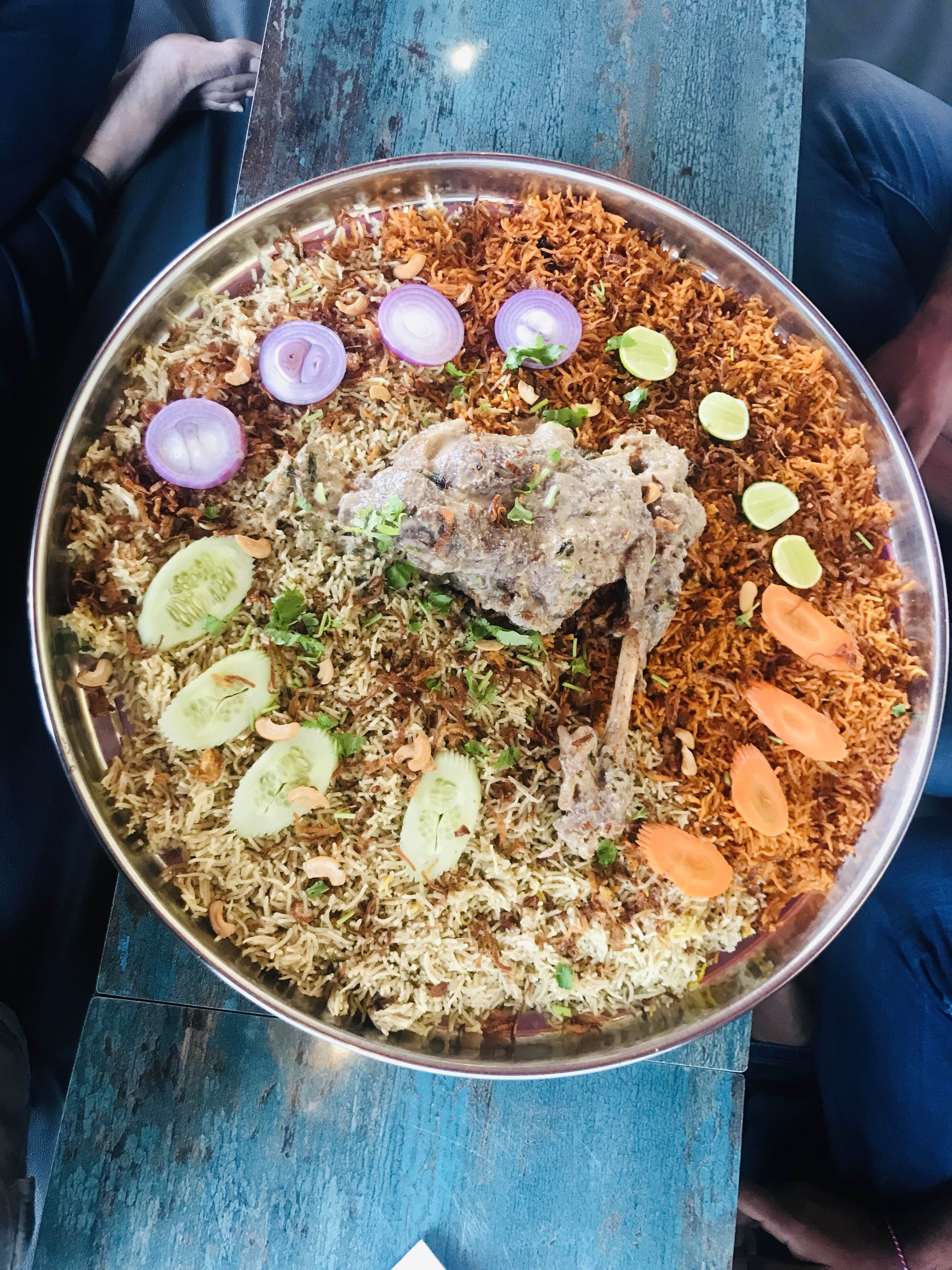 Barkaas: A trip To Middle East
What Makes It Awesome?
Barkaas is an authentic mandi place opened to patrons in Bengaluru and I think the location is spot on since we don't have a single competitor in and around Marathalli. I personally haven't tried Mandi places in Bangalore but did not hear any great reviews about any existing joints. Barkaas comes as a sigh of relief. Let me tell you a little about Mandi/Kabsa for peeps who are wondering what are these dishes Mandi – It's a traditional dish from Yemen made with meat, rice along with a lot of spices. Mandi means dew which reflects in the moist dewy texture of the meat. It is also prepared by layering semi-cooked rice like biriyani but this dish is cooked for hours on a very low flame in clay pit underground using firewood and also its spice level is more on the pleasant side because of ingredients used Kabsa – This dish originates from Saudi Arabia and also regarded as the national dish of the country. Kabsa is an Arabic word which literally means press, alluding to the technique used in cooking, where all the ingredients are cooked (or pressed) in one pot. This dish is usually made with Basmati rice, Meat or Vegetables, and a mixture of spices which include black pepper, cloves, cardamom, saffron, cinnamon, black lime, bay leaves and nutmeg. This dish is spicier compared to mandi but not as hot as a Hyderabadi biriyani. The rice is served on a huge plate then topped with the meat or veggies along with lots of fried onions, dry fruits and raw veggies Both Mandi and Kabsa come with a range of accompaniments like raita, Salan, Spicy Soup and fried onions. The spicy soup when mixed with Mandi or Kabsa just enhances the complete experience and your tongue would be craving for more n more of these delicious Middle Eastern delicacies. Barkaas already has a presence in other places of Andhra Pradesh and they have finally openened their first branch in Bangalore with superb dessert-themed ambience designed in authentic Arabic style. This place offers 2 styles of dining 1) Normal seating like any other restaurant 2) Traditional Arabic Style seating with a huge centre table with all customers sitting around this on the beds laid on the floor such that everyone could gorge in from the same plate at once My take on food served Mutton Shoulder Piece (4/5) - If you are taken back by reading mutton shoulder do not worry what you read is right this place serves complete mutton shoulder cooked as a single piece and served as is on the plate along with Mandi/Kabsa based on your choice. We have opted for half portion of Mandi and half portion of Kabsa. Mutton was cooked thoroughly and the meat was nicely falling off the bone. It was would have been an exemplary dish if the meat would have been little more tender. One more important point if you want to get your hands on this huge portion please do inform them a day in advance. Kindly call them on 9916877778 Kabsa(5/5) - This dish came as a huge surprise. I have tasted Kabsa in many places in Hyderabad but nothing was close to kabsa served here. As mentioned earlier when you have this with the spicy gravy and fried onions you are sure to tingle your taste buds. I have visited this place only over the weekends and it was available during my visits. If given an option I will choose this over mandi any day Mandi (3.5/5) - I was very excited when I finally saw a Mandi place in Marathalli. I was having high expectations about their Mandi but it was not that great. In all other joints elsewhere from Bangalore what I have personally observed is that Mandi, when served, is loaded with a lot of dry fruits and fried onions which is not the case with Barkaas and also the mandi here lacks the wow factor. Unfortunately, this is one of the very few places serving this dish Arabian Fish Kabsa (5/5) - The one dish which keeps calling me back, again and again, is their Arabian fish which is neatly cleaned free from bones perfectly marinated with no odour what so ever makes this their show stopper. I am not able to think of right adjectives to describe how flavourful this dish just taste this to understand why do I praise this dish so much Mutton Juicy Mandi (4/5) - Like the mutton shoulder this is also cooked for long over a slow flame making the meat really really juicy. The moment you bite into the meat the flavours will burst in your mouth. If the meat can be little more tender this can one of their best offerings Chicken BBQ (2.5/5) - I did have this only once and I think I will not order this ever again. The chicken was super dry and it gave me a feeling that the chicken was not fresh Desserts Shahi Tukda (4.5/5) - This dish gets everything right and more importantly it is very consistent with its taste. I visited this place multiple times this was one of the reasons why I went back to this place. I don't like my desserts super sweet and this one would be my pick 9/10 times due to perfect balance this dish strikes in all aspects. Don't miss this dish if you have room for desserts after a scrumptious meal Kunafa(3.5/5) - This is one of their house specials and if they can control the inconsistency in taste this can be a perfect alternative for Shahi Tukda. I have eaten this multiple times and I should say it was a roller coaster ride with this dish. It was perfect at times and the next time I order this with a lot of excitement and it ends up really ordinary
What Could Be Better?
If you are looking for some lip-smacking Mandi/Kabsa there is no better place than Barkaas in Bengaluru at the point of writing my review. The owner here is a very welcoming and very fun person to have a conversation but the chef here is very rude and high on the attitude I don't know how he is with the other customers but I didn't like his behaviour what so ever. I keep going back to this place for the great hospitality, food and warm nature of the owner
Ask Sai a question