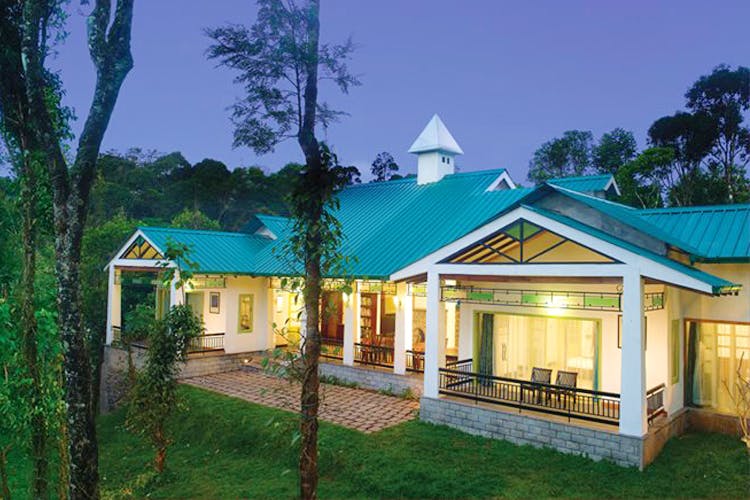 Live In The Lap Of Luxury And Wilderness At This Grand Plantation House In Kerala
Shortcut
With nothing but cardamom and pepper plantations surrounding you, it's easy to relax and unwind in the grandeur of Aanavilasam Luxury Plantation House in the Periyar Wildlife Sanctuary, Thekkady.
Planter's Life
Thanks to the owner, photographer and publisher Salim Pushpanath, and his eye for aesthetics, the Aanavilasam Luxury Plantation House is an absolute secret treasure. We almost didn't want to share! Hardly a ten-minute drive from the Periyar Wildlife Sanctuary, the imposing bungalow is chic but non-pretentious. We love the common area – a confluence of international designs style made Indian with linen, silk and the warmth of colour.
Pool Party
The deluxe rooms are cosy, comfortable and have a little kitchenette for in-room quick fixes. The suites, complete with four-poster beds, stately living rooms and French windows to take in the view of the undulating hills, even have a wrap-around veranda and a large garden bath to soak away all those pains. We have completely fallen for the pool villas though. Lavish 900 square feet of a contemporary country-feel space, it's a real treat. Float across the living area onto the veranda before plunging into the pool. With the sun peeking out and the tropical breeze dancing on your skin, it's rather a romantic experience. We suggest you also make full use of the strategically-placed bath oils and essence!
Suite Up
Pool not your priority, but extravagance is? This place has you sorted at The Presidential Suite. Cut off from the rest of the space, it's connected by a private bridge and is only yours to enjoy. Apart from a lavishly large bedroom and living area, the bathroom has two showers and a very large garden bath to enjoy with the added effects of bath oils and scented candles! Needless to say, it's great for honeymooners. Or if you're looking to practically set up house in the wilderness for a while.
Step Out
From walks or jeep and elephant rides through the plantations to a calm boat cruise on the Periyar lake and the fascinating Kalaripayattu show, there's plenty to keep you busy. Our top favourite is the Night Patrol in the fringe eco development zones of the tiger reserve, you'll really be helping to protect the forest. The fact that it's from 8pm to 4am makes it thrilling because you're limited by the darkness.
So, We're Thinking...
We're always ready to pack our bags and head off here. More so because cell reception is patchy and you really can unwind with no restrictions of ping and ringtones.
More Information
Aanavilasam Luxury Plantation House
Comments